Gilbert White & The Oates Collections volunteer Anna Elder has been fundraising for the Selborne museum during lockdown. Anna has just embarked on her 150th walk in lockdown, after each walk of two miles Anna donates £2 to the museum meaning that over the last couple of months she has raised £300.  
'I started the walks on the 22nd March to do some kind of exercise during lockdown.' Says Anna, 'I usually do the same route near my home in Selborne; this is a bit more than 2 miles in total.' 
The pandemic has hit Gilbert White's House hard this year, not only has it like many other attractions had to close it's doors this year, but this was supposed to be a year of celebration as 2020 marks 300 years since the birth of Gilbert White. The museum had a full packed year of events and celebrations but instead found itself fighting for survival, so every donation has been vitally important.  
'The fact that Anna has raised £300 over lockdown through her walks is particularly fitting' says Steve Green co-director of the museum and gardens. 'We have not been able to celebrate Gilbert White's 300th in the way we intended to, but Anna's walks encapsulate the Gilbert White spirit. White encouraged his readers to get outside within your local area and appreciate the natural world around you, which is exactly what Anna has done during lockdown and we are so grateful for the money she has raised.'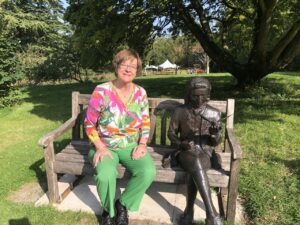 The museum reopened in July but and really appreciates all the fundraising that has been done on its behalf to ensure that the museum survives the pandemic.