Exciting news! We have confirmed that BBC's Tom Heap will be officially re-opening the museum on the 12th May after it's £3 million renovation.

Tom Heap who presents the investigations on Countryfile – Britain's most popular factual TV programme, is also the principal voice of 'Costing the Earth' on Radio 4, the nation's only dedicated environment series. He is also a regular Panorama reporter covering food, farming energy and wildlife. A perfect match for Gilbert White & The Oates Collections which celebrates explorers of the natural world and was home to one of the leading naturalists of the eighteenth century. The official opening ceremony will take place at 11:30am where Heap will cut the ribbon.
Throughout the day there will be nature activities and performances from the Lions of Zululand, who will be dancing throughout the day.
The renovations include the restoration of Gilbert White's 18th Century Stable Yard, (never seen by the general public) into a new visitor centre, with brand new café 'White's Café-Bar' which specialises in homemade food, much of which from our own garden and local producers. A new shop and reception area, and access to Gilbert White's brew house, where White would have spent many hours brewing his on ales.
The project that has been supported by £1.8m of Heritage Lottery Funding also includes new galleries, a new orientation room that explains the link between the three explorers celebrated at the museum Gilbert White, Frank Oates and Lawrence Oates. The Victorian explorer Frank Oates has had a new gallery designed around his life and achievements, where visitors are taken from his drawing room at home, to the rain forests of Central America and the plains of Africa. There will also be a new learning space for activities as well as a new temporary exhibition space.
Alongside other improvements such as the enlargement of the museum's car park, and a new fresh feel to the current galleries and spaces, Gilbert White & The Oates Collections will be a fantastic dynamic place to be inspired by, and to explore the natural world.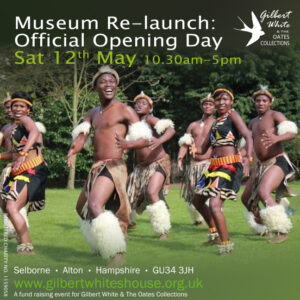 The grand opening will take place on the 12th May as a celebration of the new facilities and our three explorers of the natural world. A family open day, the museum and gardens will be open free of charge with activities running throughout the day; including African dancing to celebrate the opening of the new Frank Oates gallery, as well as arts and crafts.
The Museum will be officially re-opened at 11:30, with a small ceremony and the Museum is open to the public from 10:30 through to 17:00.