Perfect for a romantic wedding dress, KASIA AUSTIN's exquisite designs epitomise an English summer's day.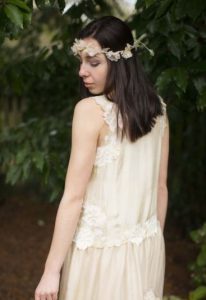 Exciting news! Kasia Austin will be unveiling her Love's Young Dream collection of beautiful bespoke bridal wear and accessories here at Gilbert White's House on 7 May at The Wedding Fayre.
Kasia colourwashes and embroiders natural fabrics – luxurious satins, smooth silks, floaty chiffon and exquisite French lace – to create her fairytale style, which effortlessly flatters the body. Each piece is unique, with freehand stitching, ribbon work and beading, and Kasia will waive her usual appointment fee of £25 for brides-to-be who book at the event.
Drawing inspiration from the ethereal and vibrant colours of the countryside around her studio, Kasia honed her embroidery skills working with Cathryn Avison, whose film credits include Harry Potter and Disney's Cinderella and Beauty and the Beast.
'I want women to feel special and different on their wedding day and confident that no one will ever be wearing the same gown'
www.kasiaaustin.com