It's English Tourism Week! So here's 7 ways to celebrate!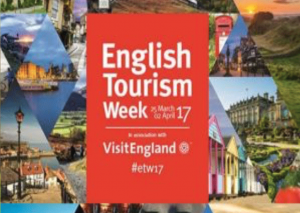 1.Visit us!
Sounds simple and it is! We are a heritage hidden gem, so if you've never been why not visit us Tuesday-Sunday?
2. Enjoy Selborne 
There's plenty to do in Selborne, climb the famous zig zag named one of the best views in England last year! Visit the church, walk along the Lythes, visit Selborne Pottery as well as the other lovely shops and business, in this tiny eighteenth century village.
3. Have a spot of tea! 
Even if there's no time for exploring there's always time for tea and cake!
4. Visit Alton 
On Tuesday 28th March you'll find us alongside our Alton neighbours celebrating English Tourism Week.
5. Walk Writers Way
A new trail has been released that takes walkers through this literary part of Hampshire. The Writer's Way is a 13 mile trail linking Alton to surrounding villages through some beautiful countryside; it is open to walkers, cyclists and horse-riders. The route uses a mixture of paths and rural lanes with generally gentle gradients, at times on age-old sunken tracks and at others on paths over open farmland or through woodland. The route links Jane Austen, Gilbert White & William Cobbett
6. Go Shopping
Visit our shop which is full of unusual books, accessories, local food products, greetings cards and much much more.
7. Treat Mum
This weekend is Mothering Sunday,  so why not spend the day somewhere the whole family can enjoy?