The Summer Holidays are here and can be pricey! But they don't have to be! We've put togther five budget summer holiday ideas!
1. Go on an adventure

We have not one but two free summer activities over the holidays! Borrow one of our Family Explorer Backpacks from reception to take your natural adventure to the next level. Backpacks include magnifying glasses, binoculars, sketch books and identification keys. OR Running throughout the holidays, families can try their hand at geocaching and scavenger hunts in our gardens and parkland. GPS devices can be hired from reception or you can use your own.
2. Get Messy

Love crafts? Try our Wild Art Day's every Tuesday throughout the summer we will be out in the gardens for some messy art work using natural materials. Free with admission!
3. Use your senses!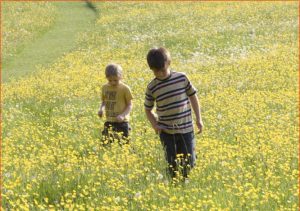 For just £3 join us as we take a walk through Gilbert's grounds and explore our senses on the way, but don't forget your wellies!
4. Save the Butterflies

It's the Big Butterfly Count, why not use our gardens to see how many species you can find or even in your own back garden!
5. Dog show

Our Dog Show on the 3rd September is free entry and only £2 to enter your canine companion into a competition! Lots of fun things to do and see!