Visit the garden this April!
By booking online you save 25%!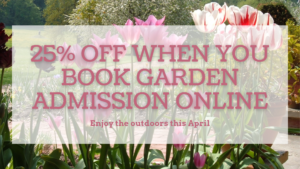 Visiting our grounds must be in accordance to national covid-19 guidance. From the 29th March you are permitted to visit with a group of six or in two households.
From the 13th April we will have an outdoor catering facility on the Lawn. Before the 13th we will have a takeaway service from Stable Yard.
Entrance to the gardens is from our High Street entrance only until the 13th April. Please show your confirmation email to the café before entering the gardens. Tickets to the garden are available from the café also but it is cheaper to buy them online.
Click here to learn about our Easter Egg Hunt! 
Prices:
Adults: £6
Children: £2
Tickets are available Tuesday-Sunday between 10:30-17:00. Tickets will be available for Mondays but only till midday, except Easter Monday when we will be open all day. The tickets are not timed.
Tickets are non-refundable and non-transferable.