It's National Gardening Week!
Gilbert White was a passionate gardener whose personality is in each part of the 25 acre garden we conserve. And that's why we need help! 
If you are a garden lover who'd love a chance to work on one of the most beautiful gardens in Hampshire, then this could be the opportunity for you!
At this time of year our gardening team are busy seed sowing, replanting the historic six quarters, planting new beds near our brand new stable yard area. They are also busy in our new greenhouse caring for plants to sell and plant. Plus the garden is looking amazing with tulips, honesty, and lots and lots of colour!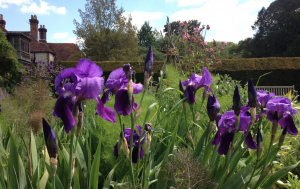 The garden here at Gilbert White's house is completely varied from our prolific kitchen garden, to the more formal six quarters. As well as our wild naturalist garden, meadow, orchard, and herb garden. You can devote as much or as little time as you like, we have some great monthly gardening sessions, as well as more regular work. We have a great friendly team of mainly volunteers in our garden, who will delighted to show you what's so special about Gilbert's Garden!
Interested? Great! Just let us know and you'll be enjoying the delights of Gilbert's Garden in no time!