Gilbert White in North America, Australia & New Zealand
It will be no surprise that English speaking nations have produced the most editions of The Natural History of Selborne, particularly The United States of America. Many of these American editions are British editions, bought by American publishers and given a new cover and binding.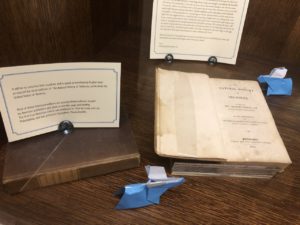 The first true American edition was published in 1832, by Carey and Lea, Philadelphia and was printed in Springfield Massachusetts.
There have been two Canadian editions in 1888 and 1904.
Letter XXVIII

To Thomas Pennant, Esquire

Selborne, March, 1770.

On Michaelmas-day 1768 I managed to get a sight of the female moose belonging to the Duke of Richmond, at Goodwood; but was greatly disappointed, when I arrived at the spot, to find that it died, after having appeared in a languishing way for some time, on the morning before. However, understanding that it was not stripped, I proceeded to examine this rare quadruped: I found it in an old green-house, slung under the belly and chin by ropes, and in a standing posture; but, though it had been dead for so short a time, it was in so putrid a state that the stench was hardly supportable. The grand distinction between this deer, and any other species that I have ever met with, consisted in the strange length of its legs; on which it was tilted up much in the manner of birds of the grallae order. I measured it, as they do an horse, and found that, from the ground to the wither, it was just five feet four inches; which height answers exactly to sixteen hands, a growth that few horses arrive at: but then, with this length of legs, its neck was remarkably short, no more than twelve inches; so that, by straddling with one foot forward and the other backward, it grazed on the plain ground, with the greatest difficulty, between its legs: the ears were vast and lopping, and as long as the neck; the head was about twenty inches long, and ass-like; and had such a redundancy of upper lip as I never saw before, with huge nostrils. This lip, travellers say, is esteemed a dainty dish in North America. It is very reasonable to suppose that this creature supports itself chiefly by browsing of trees, and by wading after water-plants; towards which way of livelihood the length of leg and great lip must contribute much. I have read somewhere that it delights in eating the nymphaea, or water-lily. From the fore-feet to the belly behind the shoulder it measured three feet and eight inches: the length of the legs before and behind consisted a great deal in the tibia, which was strangely long; but in my haste to get out of the stench, I forgot to measure that joint exactly. Its scut seemed to be about an inch long; the colour was a grizzly black; the mane about four inches long; the fore-hoofs were upright and shapely, the hind flat and splayed. The spring before it was only two years old, so that most probably it was not then come to its growth. What a vast tall beast must a full- grown stag be! I have been told some arrive at ten feet and an half! This poor creature had at first a female companion of the same species, which died the spring before. In the same garden was a young stag, or red deer, between whom and this moose it was hoped that there might have been a breed; but their inequality of height must have always been a bar to any commerce of the amorous kind. I should have been glad to have examined the teeth, tongue, lips, hoofs, etc., minutely; but the putrefaction precluded all further curiosity. This animal, the keeper told me, seemed to enjoy itself best in the extreme frost of the former winter. In the house they showed me the horn of a male moose, which had no front-antlers, but only a broad palm with some snags on the edge. The noble owner of the dead moose proposed to make a skeleton of her bones.

Please to let me hear if my female moose corresponds with that you saw; and whether you think still that the American moose and European elk are the same creature.

I am,

With the greatest esteem. etc.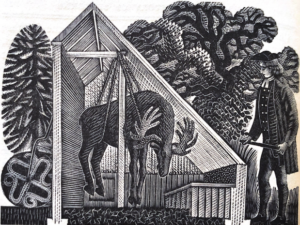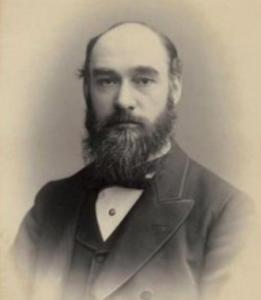 On the other side of the world in Australia an edition was published in 1891 by E.A. Petherick . This particularly handsome editions is extremely rare, and was only discovered in 2011. Edward Augustus Petherick (1847-1917) was born in England and had emigrated aged 5. He is best known as a bibliographer, book collector and benefactor.
This New Zealand edition (1897) is an undated impression of Richard Jefferies' British edition. Small hardback, published by H. H. Driver, Dunedin, but with Walter Scott (the English publisher) on the spine.