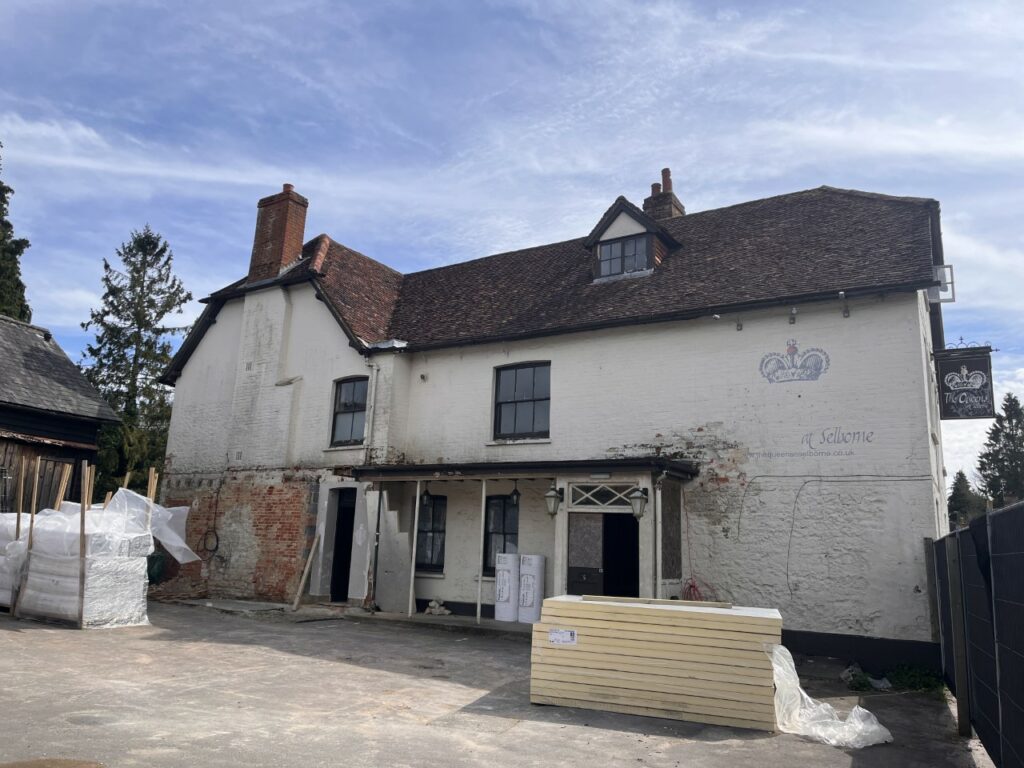 Gilbert White's House & Gardens has announced plans to work with the Derek Warwick Developments to open a Tap Room in a section of the historic building later in the year.
The Queens, which had been a public house for centuries closed in 2016 and has been empty for six years. The museum which re- opened Gilbert White's original brew house as a nano-brewery in 2021, have made plans to open a Tap Toom within the historic building to help keep the buildings history of local brewing alive.
The Queens, or Compasses Inn as Gilbert White would have known it in the 18th Century, nestled in the heart of the village opposite Gilbert White's House, has always played an important part in village life. In the 1830s it was part of the Selborne Riots, and in Gilbert White's lifetime it was owned and run by White's friend and neighbour Timothy Turner. Just like White, Turner brewed beer at home using hops and other ingredients from the local area.
'Aug 26th, 1788
Mr Hale & Tim Turner begin to pick hops in the Foredown.  Hale picked 350 bushels: his hops are large & fine.'
'Aug 19th, 1789
Timothy Turner's brew-house on fire: but much help coming in & pulling off the thatch, the fire was extinguished, without any farther damage than the loss of the roofing.  The flames burst thro' the thatch in many places.'
Gilbert White's Brewhouse - built by Gilbert in 1765 and in which he experimented with different brews right up until 13 days before his death in 1793 - was reopened officially as a brewery in 2021 by Nigel Atkinson, Lord Lieutenant of Hampshire, and has been brewing beer since early 2020, producing over 15 different beers for sale at the museum.  The various brews have been well received at beer festivals. The Brewery is preparing a special recipe for their 100th brew due this summer. The brewery is currently run by volunteers from the Selborne area.
The Tap Room across the High Street from the brewhouse will allow members of the public the chance to try the Gilbert White range of beers. It will also stock other local beers and produce. The Tap Room will initially be open for limited hours, serving snacks to accompany beer, wine and cocktails. Anticipated opening is Autumn 2022.
Chairman of Trustees, Khalid Aziz said 'We have partnered with the Queen's developer to help breathe new life into the Queens building.  We want to celebrate its heritage in a way that is beneficial and sustainable for the village and to continue the local brewing tradition.'
The developers will shortly be holding 'Hard Hat Tours' of the historic building for those interested in seeing the interior of the building.  Those who cannot wait for the Tap Room to open can sample Gilbert White Beer now by purchasing a bottle or pack from the Museum's café or shop