Gilbert White & Valentine's Day 
It's Valentine's Day, which got us thinking did Gilbert White ever celebrate Valentine's Day in the Eighteenth Century?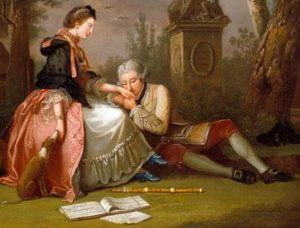 He certainly would have been aware of St. Valentine, or the many martyrs that are commemorated on St Valentine's Day, as part of the Christian calendar, but would he have been aware of the day's association with love? The first recorded reference to February 14th and love is Chaucer's Parlement of Foules (1382), there's also references to it in Shakespeare's Hamlet and Edmund Spencer's The Faerie Queene (1590). Gilbert was a literate man, who knew Shakespeare well and we can only guess he was fond of Spencer as Gilbert's spaniel was names Fairie Queen.
Giving cards and gifts on Valentine's day didn't start until after Gilbert's death in the 19th Century but during Gilbert's own life time Valentine's Day poems were popular such as the ultimate in clichés from Gammer Gurton's Garland in 1784
The rose is red, the violet's blue,
The honey's sweet, and so are you.
Thou art my love and I am thine;
I drew thee to my Valentine:
The lot was cast and then I drew,
And Fortune said it shou'd be you.
In the early 18th century the custom of "drawing names" had become popular, as noted by Bourne, in his Antiquitates Vulgares (1725):
It is a ceremony, never omitted among the Vulgar, to draw Lots which they Term Valentines, on the Eve before Valentine-day. The names of a select number of one sex, are by an equal number of the other put into some vessel; and after that, every one draws a name, which…is called their Valentine, and is also looked upon as a good omen of their being man and wife afterwards.
This might have been common practise by the young men and women in the village of Selborne.
Another practise during the eighteenth century was to wear your heart on your sleeve. If a man was particularly smitten with a woman, he might declare it to the world by pinning to his sleeve a heart-shaped piece of paper with the name of his beloved written on it. A equivilant of this might be to wear a  charm on your person, Samuel Pepys comments in 1662.
And here Mrs. T. shewed me my name upon her breast as her valentine, which will cost me twenty shillings.
There was also a belief that on St. Valentine's Day the first single person you met outside the house, could well be your future partner. In a letter from Ms. Whimsey's in 1755 letter, she states sensibly that she would lay in bed all morning with her eyes shut, until Mr. Blossom "came to our house; for I would not have seen another man before him for all the world."
We know that Gilbert White never married, and perhaps we can't quite see Gilbert prancing around the village with paper hearts attached to his cuffs, however there are some ladies in Gilbert's life that have historians guessing.
The first was Hecky Mulso, sister of Gilbert's closest friend John. Hester Mulso (later Hester Chapone) was a bluestocking and writer, whose work influenced some of the best 19th Century female novelists such as Elizabeth Gaskell, Anne Bronte and Jane Austen. It's clear that Hecky and Gilbert were close, but they were only ever friends.
Not so with Jenny Croke, Jenny's mother owned a haberdashery shop in Gilbert's beloved Oxford in which he spent a lot of money in, perhaps in order to spend time with Jenny and impress her mother. Jenny whose family was connected with Selborne travelled with Gilbert from Oxford. Where unfortunately the poor coach sick man threw up. His accounts record that he gave Jenny a China Turene (bowl) for being 'prevented paying for ye post-chaise'. Picture the scene Gilbert and Jenny in close quarters for hours chatting on their way to Gilbert's home, than not only do you throw up on the lady but she has to pay the fare! Mortifing luckily Gilbert had a good sense of humour and sent a bowl as an apology. Clearly John Mulso thought there was something there in 1753 he writes 'Our girls are quite clear that the affair between you and one Jenny is quite serious! However it was not to be, Gilbert remained a bachelor. The likely reason behind this was that he couldn't afford to marry, his income was so small he could just about support himself let alone a family.
The last is Kitty Battie the eldest of three sisters who came to visit Selborne one summer. Gilbert then aged 43 acted as master of ceremonies for the visitors, organising trips and activities for the girls to do. Kitty aged 19 or 20 noted down her time in the diary, and it's clear that Gilbert took special measures to ensure they had a pleasant holiday. However he was slightly out shown by the handsome Harry White then 33, who jumped out at them in a hermit costume, whilst they were taking tea up on the hanger. On leaving Gilbert presented Kitty with a poem, it's a satirical poem, poking fun at the teenagers aguish upon leaving, but reminds us very much of the valentine's poems mentioned above! We of course only speculate, and we don't think Gilbert had any serious intentions as he had had with Jenny ten years earlier, but on Valentine's day it would be nice to think that maybe the joyful young Kitty had caught Gilbert's eye. Kitty eventually married the wealthy John Rashleigh in 1771.
Kitty, a grateful Girl, in doleful dump,
On the steep cliff deplor'd her favourite stump.
* Shall I no more (the melting Maiden cries,)
With thy siveet scenes delight my feasting eyes :
Say, shall no more thy nearer views engage.
The crouded Tent and swelling Hermitage ;
Shall the cowl'd Sage no more my sight beguile.
So stout, yet so decrepit all the while ;
Wond'rous old man, in whom at once combine
The hoary Hermit, and the young Divine
In dapper hat adorn'd, and pastoral dress,
Must I forget each Sister Shepherdess ;
While amorous swains, bending with anxious care,
Down the loose slope conduct their sliding Fair?
Delightful stump ! on thy rough lap reclin'd.
How shall I paint the transports of my mind
Words are but vain : come then the starting tear,
And soften'd feature, speak my love. Sincere.