Gilbert White's Kitchen Garden Series – Summer
The summer of 1763 was, in the words of Gilbert White biographer Richard Mabey, 'a long-running fete'. (Mabey, p. 88). On 4 June 1763, the three daughters of Dr William Battie, President of the Royal College of Surgeons, arrived for an extended visit at the Selborne vicarage. They were cousins of Mrs Etty, wife of the vicar, Rev. Andrew Etty. By mid-July, White himself was hosting at The Wakes: his aunt, his sister, his brother, his cousin, two of his nieces, his good friend Thomas Mulso and his wife, and Mulso's cousin. White could finally be said to be truly the host at The Wakes – despite having lived most of his life there, he had only inherited it earlier that year from his uncle. (Mabey, p. 87) In such a small village, an assembly of twelve additional members of the gentry was certainly notable. The summer saw a succession of balls, fetes, picnics, and teas that no doubt benefited from the produce of the Kitchen Garden.
Much like the summer of 2018, the summer of 1763 also saw a drought in England, with White noting on 4 June 'The weather has been dry, except one trifling shower, for these three weeks today'. (White, p. 128) By 11 June he was observing that 'The fields & Gardens begin to suffer; & there is but a poor prospect of a crop of hay; & most people's old stock is quite spent.' (White, p. 129) This desperate situation would certainly not be lost on the farmers of today, in this particular year. By 27 June he was noting that 'corn begins to suffer', but fortunately, the rains finally came for Selborne on 30 June, lasting 12 weeks and well in to the beginning of autumn. (White, p. 130, p. 132)
When the rain did come, it came in plenty. On 9 June he 'putty'd the melon frames to keep-out the wet'. (White, p. 130) White was anxious to serve the pride and joy of his garden, the cantaloupe melons, to his guests. Throughout June he observed the flowering of plants and setting of fruit, noting on 16 June that 'Cantaloupe set all first fruit, and promise a good crop'. (White, p. 129) Fortunately, he noted the first harvest of cantaloupe on 30 July, four days before the Battie sisters were to depart. On 3 August, the Garden Kalendar notes that he 'Cut a fine-looking Cantaloupe, & sent it by the ladies (who left Selborne today) to Dr Battie' in London. (White, p. 131).
Melons continue to be grown in the museum's Kitchen Garden, in hotbeds based on the same design that White used. They consist of wooden frames with sliding glass covers that can be adjusted to maintain the correct temperature. The outsides of the frames are packed with straw for insulation, while the inside is first filled with fresh horse manure, followed by a thick load of soil, into which the melons are planted. As the manure decomposes it heats the earth above it, keeping the melons in the tropical heat that they need. Heritage varieties that were known in the 18th century are still grown in our hotbeds, this year saw a harvest of Black Rock and Petit Gris de Rennes varieties. Growing melons in hotbeds in England remains a tricky process. Gardeners must ensure that the plants don't get too cold, but also that they don't overheat when the temperature rises, and must always be vigilant for pests that bore into the fruit and cause it to rot. However, the reward of a fresh-off-the-vine melon is worth it.
White also harvested another of his fashionable crops while his guests were present, writing on 26 July that he 'Cut some tolerable Cauliflowers.' (White, p.130) Cauliflower probably only arrived in Britain in the late 16th century, but increased in popularity through the 18th, though it was still considered somewhat exotic. British weather was not warm enough to allow the varieties of the day to set seed reliably, so seed had to be imported each year from the Continent (we can thank the ever-industrious Dutch gardeners for developing a method in the 19th century for getting cauliflower to set good seed in colder climates). 18th century cauliflower was not quite the same vegetable that we know today, Christopher Stocks tells us that 'to our eyes, they probably would have looked more like large, loose heads of off-white broccoli' (or often also purple). (Stocks, p. 64)
Cauliflower was used in a variety of ways. A 1767 edition of Hannah Glasse's The Art of Cookery, Made Plain and Easy gives instructions for using it to dress meats, including venison, mutton, and forced lamb (similar to a modern meatloaf), in ways that would not be too unfamiliar to us now. A more amusing recipe calls for a circular platter to be laid with six boiled chickens, alternated with six hogs' tongues 'boiled and peeled' with 'roots outward', with boiled spinach separating the meats, and the cauliflower boiled in milk and water and then piled in the middle, 'Garnish[ed] with little pieces of bacon toasted' laid on each tongue. It is described as 'A good dish for a great deal of company', and may have been just the sort of thing White might have served to impress his affluent guests. (Glasse, p. 77)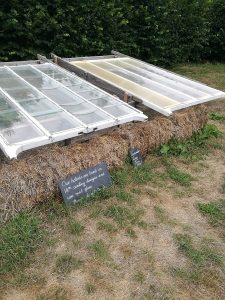 Cauliflower was also recommended by Glasse for pickling, frying, making a ragout, and for 'India Pickle', essentially the same as modern piccalilli. Another interesting recipe, 'Cauliflowers dressed in the Spanish Way', involved parboiling the cauliflower, then frying it in oil with garlic, and finally adding vinegar and seasoning and simmering for an hour. (Glasse, p. 343)
Any gardener knows that summer is a joy in the vegetable plot, and White too, would have been revelling in the produce of the season. He noted harvest of marrow-fat pease on 27 June, and would also have enjoyed the beans, carrots, radishes, and lettuce that he planted in the spring. He also continued to sow crops throughout the summer, for harvest in the coming seasons. This included sowing endive and coss lettuce, and pricking out of celeriac and celery in June, sowing more celery and endive in July, and sowing spinach and turnips in August. (White, p. 130-132)
But, eventually summer must always end. White's guests eventually went home, and summer eventually turned to autumn. Find out about what White was doing in the Kitchen Garden in Autumn in our next post.
Sources:
Stocks, Christopher, Forgotten Fruits – The Stories Behind Britain's Traditional Fruits and Vegetables, (London: Windmill Books, 2008
White, Gilbert, The Journals of Gilbert White, Vol. 1, 1754-1773, ed. by Francesca Greenoak, gen. ed. Richard Mabey (London: Century Hutchinson Ltd., 1986)
Glasse, Hannah, The Art of Cookery Made Plain and Easy, (London: Printed for A. Millar, R. Tonson, W. Strahan, T. Caslon, T. Durham, and W. Nicoll, 1767 [first published 1747]) Digitised version made available by the US National Library of Medicine, online at: https://archive.org/details/101264293.nlm.nih.gov