Guide to the New Look Museum…

If you've visited in the last couple of weeks you will have noticed a few changes around the place!
We are almost ready to reveal our new museum and will be officially opening it on the 12th May, and although we're not there yet (the stable yard and café are still being worked on!) we are currently very much enjoying using our new spaces!
If you are wondering what's different here's a sneak peak!
1. Shop

Our amazing new shop opened on Good Friday. Coming straight off of the stable yard it is a lovely space and jammed packed of lovely gifts and keepsakes. We also have moved our plants sales to the outside of the shop too!
2. Orientation Room

In what used to be our Tea Parlour you can now find the Oreinatation room. This explains our story, who Gilbert White, Frank Oates & Lawrence Oates are, and how they came to be celebrated in the same museum. There is also some great sneak peaks of our collections in there too!
3. Old Kitchen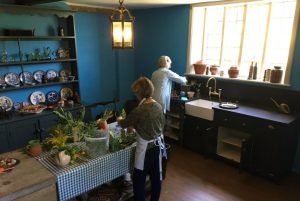 Good Morning! We've brought the Old Kitchen to life! Learn more about the domestic life of Gilbert White and his household listen in on a conversation between Gilbert and his sister-in-law, and learn more about life in Selborne during Gilbert's lifetime.
4. Frank Oates

What a transformation, be transported as you learn about Frank's early life in Victorian Yorkshire, into the rainforests of Central America and then finally to the plains of Africa where Frank reached Victoria Falls. All told through amazing never seen before artefacts, sights and sounds amazing!
5. Discovery Room

Our old shop has been converted into a library and learning space, and invites you to take your journey into the natural world further! This where we have our library displayed, and where from May the 12th our temporary exhibitions will be held, we will also have education sessions in this room all presided over my our friendly albatross!