If you teach from home you might be interested in the sessions we are running at our Field Studies Centre!
Our most popular session- a stimulating day of practical geography skills. Visit the river to explore river features and processes, calculate the velocity of the water, plot a cross section and find out what lives in this watery habitat. This session will required waterproofs and wellies.
Why did explorers travel to Antarctica, what did they take with them, what did they eat, what animals did they meet and what was it like to be there?  This hands on workshop allows your learners to discover the daily life of a south pole explorer of Scott & Oates' ill fated Terra Nova Expedition through object handling, observation, dressing up, smells and role play.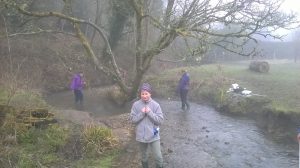 Undertake a day of river data collection using sites on our Oakhanger stream and Wellhead stream for comparison. Our staff will guide you through the methods of data collection to explore river velocity, depth and deposited materials on the slip of slope.
All equipment provided and you can take your data away for analysis at home. each session is 
£10 per child per two hour session, with 
1 adult free with each full paying child and any additional adults for £3. 
Sessions run 11am-1pm & 2pm-4pm on each of the activity days. 
Younger siblings are welcome to attend as long as they are supervised by their adults to ensure their sibling can focus on their learning. 
All sessions will start and end at the Gilbert White Field Study Centre