Welcome to our project blog!
Here's a link to some our of previous blogs about out exciting renovation project! We are now in the main throws of the project and will be producing a monthly blog about how we're getting on!
This month the builders have moved in!
Over the summer Gilbert's old kitchen has had a make-over – the walls might look bright but they are based on an original blue which would have been used in Gilbert's day to deter flies and other insects from the kitchen. We have also added a sink and small kitchen unit which we will use for flower arranging and other future demonstrations.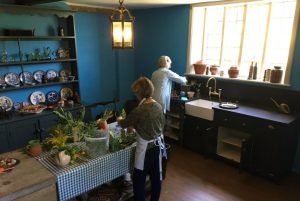 Of course, with the builders having moved into the House there will be an effect on what we can offer our visitors. The Tea Parlour will close from Monday 11 September and a smaller catering offer will be available in Bells Library. We will continue to serve coffee, tea, lunch and snacks, including our delicious home-made cakes, but with a limited main lunchtime menu, and everything will be served in disposable cups and plates to assist our catering team who will effectively be working in field kitchen conditions! Work continues on the new café and kitchen which will be launched next Spring with a brand-new look and name, and most importantly a brand new menu! We can't wait!
September is the perfect month to visit the 'before' of the Frank Oates gallery, which will close at the end of October, so that we can begin fitting our new Frank Oates exhibition; the plans for this gallery are very exciting with lots of new things to see and do. The new Frank Oates Gallery will be finished in the new year and will be WELL worth the wait.
We plan to stay open throughout the build, and although there will of course be some disruption and some rooms may need to close for periods of time, there will also be plenty to see and do, so don't be frightened to come during the Autumn or Winter. Your admission is valid for 12 months so you'll be able to come and see the 'after' for free! We will keep you informed of what is happening – and where – as the project progresses, and do also check our website, facebook , instagram and twitter  for up-dates.