Moths are sensitive indicators of the health of the natural environment and a vital part of the food chain; something which didn't escape the attention of Gilbert White as early as the 18th Century. On Friday 13th October, and the following morning, we participated in the national celebration of moths scheduled each year by Butterfly Conservation and Atropos . The aims of Moth Night are to introduce moths to a new audience, and to encourage their study; aims very consistent with the vision of the Museum. This year the organisers set a particular challenge by choosing several nights in October for the event with a theme of Ivy and Sugaring.
Searching ivy blossom at night has proven an effective way of recording moths during the Autumn. At this time of year, it can also attract scarcer migrant insects in addition to resident species. Sugaring, using a combination of molasses, black treacle and stout, with maybe the addition of a little rum or fruit, applied to posts and tree trunks, can also attract moths to study which might not often be attracted to other observation lures. Many moths are also known to be attracted to light. So to improve our chances of providing something of interest to study, we prepared by installing light traps, applying some sugaring to posts and some tree trunks, as well as identifying the location of the all important ivy in the garden.
There was a nice balance of experience among the participants from those relatively experienced in the study of moths, but still learning, to those new to moths and wishing to learn more. It proved to be a fascinating evening for everyone with new species even for the most experienced.
After some tips on what to look out for, we explored the garden and grounds by torchlight. The spirit of Gilbert White was among us. If only we had possessed his exceptional observation skills. The evening started well with a Large Ranunculus moth spotted resting on a bench near the Yew Hedge by the house. Very soon we found the next moth of the evening, a Tawny Pinion, on a sugared post. Despite such early success this proved to be the last moth we found attracted to the sugar! For reasons which will remain a puzzle, the ivy in the grounds didn't appear to attract moths or other night-time insects despite attracting pollinators and feeders, such as Red Admiral butterflies, during the day, including on Saturday morning.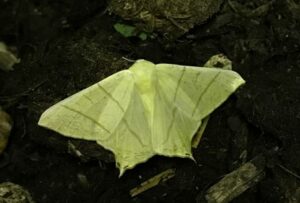 There was plenty of interest to excite and delight despite the absence of moths on ivy. One participant was delighted to spot a Swallow-tailed Moth on the Mirabilis Jalapa (Marvel of Peru) by the Yew Hedge probably attracted by the adjacent light trap, as well as the night time pollen of the plant. That hedge behind the light seemed to be attractive to a range of other moths too, such as Black Rustic and Straw Dot. We saw plenty of other invertebrates including a rather fine parasitoid wasp and a shield bug enjoying some sugar. An eft (juvenile newt) was seen under torchlight in the wildlife pond. The light traps proved once again a great success and we were able to see many examples of a wide range of resident Autumn moths, including beautiful examples during the evening such as Light Emerald.
On Saturday morning, we opened the light traps to discover which moths had additionally been attracted during the rest of the night. This proved to be very exciting as, among the moths to be expected for this time of year, we saw a Nationally Scarce Female Four-spotted Footman – a probable immigrant to this part of the country perhaps thanks to the earlier strong South Westerly winds and the warm temperatures. There are suggestions, though, that this species has taken up residence in the New Forest and Haslemere in recent years. It was, nevertheless, a beautiful moth and new for the garden and for everyone that saw it.
The final moth tally for the event was twenty-eight species. Thanks to an unseasonably warm evening with a low of 15c this was an exceptional record. There were six new species observed in the garden taking the garden list beyond 250 species. Moths such as Black Rustic, Straw Dot, Beaded Chestnut, Common Marbled Carpet, Brimstone, Green-brindled Crescent and Setaceous Hebrew Character were out in numbers. In addition to the Four-spotted Footman, a smaller micro moth, Evergestis limbata, was a nice surprise too so late in the year – a moth that was once regarded as Nationally Scarce but is now appearing more frequently as a result of a probable locally established population. All lepidoptera records will be reported into Butterfly Conservation and retained for Hampshire biodiversity records. Unlike in the 18c from what is read, all the insects were safely released back to suitable habitats.
The Gilbert White's House garden is a very special place at night as well as during the day. We were entertained by the occasional Tawny Owl and bat during the evening and in the morning by the typical Autumn song of Robin and Long-tailed Tits along with the calls of Green Woodpecker, Nuthatch and Buzzard. "The redbreast's note is very sweet, & pleasing; did it not carry with it ugly associations of ideas, & put us in mind of the approach of winter." wrote Gilbert White in October 1776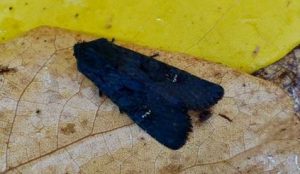 This felt very much like one of those "Inspiring Journeys of Discovery in the Natural World" for all those that participated. Look out for similar events at Gilbert White's House throughout next year, including as part of the Nature Festival on 26th May 2018.
Chris Piper is a frequent volunteer at Gilbert White & The Oates Collections and has been sharing his wonderful expertise with us, by doing regular moth and wildlife surveys, running moth events, gardening and running @WakesWeeders on Twitter!