We love food here at Gilbert White's so we are delighted that July is Hampshire Fare's Food Festival to celebrate here are our nine foodie tips!
1. Visit the Hampshire fare website!

There are so many events, suppliers and places to visit in Hampshire if you love great local food! Many of our Tea Parlour suppliers are members of Hampshire Fare and we are members too!
2. Grow and cook with Hampshire Herbs

It's not too late to join our family friendly Hampshire Herb event on Saturday! Learn about herbs, grow your own then learn to cook with herbs! What's even better you get to bring home you yummy creation and your new herb garden.
3. Enjoy some Hampshire Fizz

Nothing can be better than sitting in one of the most glorious gardens in Hampshire enjoying some Hampshire grown wines? Talk growers and producers, taste wines and fizzes and enjoy the gardens.
4. Have a Picnic

Picnics are perfect in weather like we've been enjoying! You can bring your own picnic to enjoy in our grounds or why not buy one of our picnics? We include sandwiches of your choice, fruit, homemade cake of your choice and a beverage. Perfect!
5. Eat chocolate!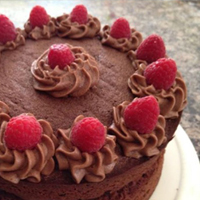 It's world chocolate day on the 7th July that to me sounds like an excuse to eat chocolate cake or maybe chocolate ice cream! All made on site!
6. Use the Tea parlour

Our Tea Parlour is proud to use local Hampshire produce in its recipes and our meals, cakes, ice creams and scones are all made by the lovely Debbie!
7. Try our Vegetables

Did you know we grow our own? Produce from our kitchen garden is delivered straight to the Tea Parlour and shop to be enjoyed and taken home by our lovely visitors! Have you tried our Cumbers or Potatoes yet?
8. Have a slice of birthday cake

July is also Gilbert White's birthday! Celebrate with us on the 23rd and have a slice of birthday cake!
9. Jam and Gilbert White!

We make and sell our own jams and chutneys! Made from produce from the gardens by volunteers, these make wonderful souvenirs! And are scrumptious!