As the temperatures rise, and the sun comes out- the garden begins to grow! So this is our time to make sure we get the garden off to a great start, and get on top of the weeds before the weeds get on top of us!
The garden is now looking very different to this time last year, chiefly because of a green hoarding around the stable yard but also because of a myriad of new sculptures sited around the garden. This is part of a county wide exhibition by contemporary artists celebrating the literature of Hampshire writers- Jane Austen, Edward Thomas and Gilbert White. Do come and have a look. You can actually buy the sculptures if you want too!
Down by the kitchen windows is the first of a collection of sculptures that I mentioned earlier. This one consists of some buff coloured rocks- a little similar to the malmstone of which the house is constructed- on which has been engraved some Gilbert white words such as 'asparagus abounds' 'gnats play' etc evocative of White's powerful descriptions of nature. Another sculpture is erected on the concrete gutter by the catmint, adjacent to the old back door, a black stone engraved with a circular swallow motif. But words can't really do these objects justice- you need to come and see for yourself! The catmint, incidentally, is just at the right stage for taking 'cuttings', ie pulling off shoots which go down into the soil, and sometimes have a few rudimentary roots on the end…. There are perhaps, rather too many columbines here, swamping the catmint which has been there since at least the 1970's.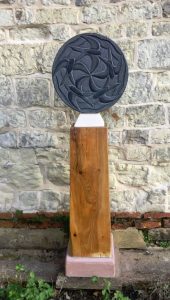 The Ranunculus are appearing in their bed by the magnolia, I know we've had at least one frost recently so I hope they haven't been damaged: they should provide a wonderfully colourful display of double buttercups in may and early June if all goes according to plan! The Magnolia will need some severe pruning to keep it under control, something that's always difficult because most shoots seem to have lovely big fat white flower buds. It's really far too big for the site, and should be moved elsewhere- but where- and how? Perhaps a replacement, differently sited is the answer? The Banksian rose near the Great parlour windows is in bud and at this rate is likely to be in flower before May. I was hoping to carry out a drastic renovation pruning before this but it will have to be postponed until after flowering now, especially as birds are reported to be nesting in it! It may be that this will be a project for next winter. There are several more sculptures by the house, including bird names carved into a shallow stone saucer and a stone and wood engraved bench. All this has certainly changed the feel and the mood of the garden. The startling dragon arums are now about 2ft tall and it won't be long before they unfurl their sinister (and foul smelling!) flowers. Those that choose to sit on the bench will get a surprise!
The border near the shop doors is springing into life with great speed; there are columbines, feverfew, yellow corydalis and hollyhocks all growing rapidly here. Opposite the bulb border is in full glory: the Georgians it seems often put all their bulbs together in one bed- Gilbert White did (although not exclusively) in a bed not far from the place they are now planted- a south facing site next to his neighbours yard. Perhaps it was a statement of the owners wealth: certainly bulbs were quite expensive, hyacinths cost from 3d each (that's about 1.5 p) to two guineas (£2-2-0= £2.10p) and when you think that a gardener might earn one shilling (5p) a day that was expensive!! There was also a huge variety available, one catalogue of1769 lists 1,100 varieties of Ranunculusses!! Our border (from the front) has polyanth narcissus (one called canaliculatus) white and blue double hyacinths (18th century varieties were often double, but the individual flowers were widely spaced) the miniature (wild) Tenby daffodil, the double jonquil (grass-like foliage) and then two lines of tulips: the Keizerskroon red & yellow 18th century tulip, and the broken or rembandt tulips (originally the flower pattern was caused by virus, and unstable in heath and colours as a result, but now the types sold have similar markings but are not, we are told affected by virus. Behind all of these ( and this year, perhaps for the first time, not getting intermingled with the rows of tulips) are two fine lines of crown imperials (Fritillaria imperialis) the orange and the yellow types. Their foxy scent wafts gently on the breeze as I make these notes! A late 18th century catalogue by Richard Weston prices these bulbs at 4d each (<2p)for the orange variety aurora but yellow flowering ones at double that.
There are several more sculptures to find near the shop doors and rose arch, including some double sided aku-aku type carvings. There is also a good range of plants for sale here, including a new range in hairy pots: do come and see. In the auricula theatre there are several auriculas in bloom and many more to come. Also the collection of old pinks (Dianthus) is looking a great deal happier- even 'Soloman', a variety looking distinctly unhappy last month, has got green shoots on it. We just don't want to much rain to rot the crowns!
In the six quarters most of the roses have been pruned, although a few remain at the time of note taking (last week) and the York & Lancaster and Old Musk Roses needed some tying into the wall . There are some good clumps of snakes head fritillary in the first quarter -you can see them also naturalised in plenty on Bakers hill. I am never quite sure about them in mixed borders, I feel they are vulnerable to fork damage and don't look quite right- but I have to say they are looking good at the moment. Also here and doing well are vipers bugloss (seeds itself wherever it wants!) and some good clumps of Larkspur. The North rose bed has Pulmonaria (blue & pink flowers) and monkshood coming through strongly. The garden monkshood is apparently the most poisonous, a one year old Labrador came into a local vets recently and died within hours of eating what appeared to be monkshood roots- a warning to gardeners this, don't leave flower roots you may have dug up around for dogs to eat- and we all know how food orientated Labradors are! Blue & White hyacinths predominate in the NW (Arundo donax, Giant reed) quarter with a good smattering of self seeded Corydalis solida. The central silver leaved Cardoons are now often a foot tall. In the other autumn quarter (SW) there a big clumps of shiny leaves belonging to the autumn crocuses (Colchicum). The annual garden beds have a bright show of bulbs: hyacinths, jonquils and tulips
In the entrance to the plant sales area under the tulip tree there is another sculpture bearing Gilbert White's statement about the language of birds being very elliptical 'little is said but much is meant and understood'.  One of the most intricate sculptures has been placed in the middle of the herb garden, being something like a very large upturned toadstool or mushroom, the patterns of nature have been very intricately carved into a white stone-like material. This is perhaps my favourite. A rather nice sundial with a wooden pedestal is placed less dentally in the brick work paths of the herb garden. Most of the beds are in good order here, but weeds are growing apace and there is work to be done on the central mint segments.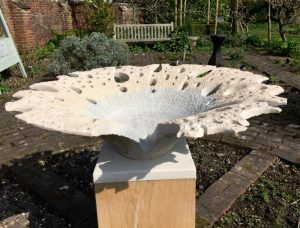 A good section of the annual wild flower meadow (Rose calls it Pictorial Meadow which is after the Olympic park plantings and indeed very apt) has been cleared for annual plants and seeds. Under the coppice area (nearer the main lawn) there are daffodils, pulmonaria and primroses. Near the kissing gate out to the park nearby is another sculpture, this one symbolizing the volcanic eruption experienced by Gilbert White in 1783. The fruit wall has tulips in bloom and blossom on the fruit trees.
For the first time in the 38 years I've been at the wakes, the badger has ripped up part of the parkland beyond the great oak: they've done it in other gardens I work in, off and on for years (the badgers that is- I've worked constantly in them!!) The tearing seems particularly deep and destructive this year, stripping quite a thickness of turf back: relatively easy to repair (flap it back!) but an awful lot of it! Beyond the damage the wine pipe is now in full working (revolving) order thanks to Peter, Arnold & David Ashcroft: we had an official opening ceremony with Gilbert White (alias Ronnie) and some Selborne schoolchildren in attendance. Back near the ha-ha, Arnold has painted the Alcove, which now looks a lot better. Nearby, the cedar tree has been trimmed to make it safe, but we will no doubt continue to close the garden in high winds. Let's hope the Cedar survives for many more years!
There's another sculpture at the base of Bakers hill- very white at the moment (not necessarily Gilbert) it represents a swift in flight (I think). On the hill there are many daffodils and fritillaries, with the pea like flowers of the scorpionsennas beautifying the orchard alongside the young purplish shoots of the honeysuckles. In the kitchen garden all is in good neat order, with new dug ground being created. There is now a good big bed of rhubarb, the monks rhubarb and other unusual docks having been removed. The raspberries and the gooseberries look to be making good growth.