The search for Frank & Lawrence is on!
We're looking for two volunteers to be Frank Oates and Lawrence Oates at our events, especially the grand opening of our £3m renovation on the 12th May.
Perfect for any budding actors out there or anyone who loves to dress up!
The aim for your role will be to dress up as Frank or Lawrence, learn their stories and talk to our visitors as if you were them. You will join our host of volunteer costume interpreters who all impersonate members of the White family.
If you're interested or know someone who might be our contact is marketing@gilbertwhiteshouse.org.uk
So who were Frank and Lawrence and do you fit the bill?
Frank Oates (1840-1875)

Frank Oates is the star of our 2018 celebrations with his new gallery opening along with the rest of the renovations. Frank was born in Yorkshire, and studied Natural Science at Oxford, where he became very ill, and had to pull out. He spent years convalescing at home, when he decided that he would combat his physical weakness, an embark on his dream of travelling the world. He first traveled through California, then started an expedition to Central America, where his lifelong fascination with the natural world came to the forefront. After returning home, he set sights on a new goal to see Victoria Falls in Southern Africa. He traveled for many years before being able to see the falls his life's achievement on New Years Eve 1874. On his way back from the falls Frank contracted a fever and died 5th February 1875 on the road, at the age of 34.
Lawrence Oates (1880-1912)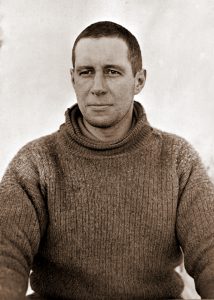 Lawrence Oates was Frank's nephew. He grew up in Essex, and joined the army. He served in the Boer War, where he sustained a serious injury. He was commended for his bravery, and given the nickname 'no surrender Oates'. After his recovery and the Boer war was over, he was posted to India, it was there that he applied to Captain Robert Falcon Scott, to be part of his expedition to the South Pole. The Terra Nova Expedition began in 1910, the aim was to be the first to reach the South Pole, and survey the environment. Oates was chosen by Scott to part of the final team to reach the pole. They reached the pole January 1912, but found the Norwegian explorer Amundsen had beaten the British team to it. Oates and the team were now horribly malnourished, exhausted, and suffering from various degrees of frostbite. They now made the slow way back from the pole, by March they had lost one team member and it was clear Lawrence would not make it home. He was extremely unwell; on the 16th March he left his team mates, in the hope that without him they would get home in safety. He died on his 32nd birthday.