One of the most magical seasons is upon us! Here are 10 reasons to visit the museum in Autumn!
Autumn colours
It goes without saying that the first we think about in Autumn is the beautiful autumn colours! But it isn't just the trees that are giving colour to the garden, we have plenty of autumnal flowers in bloom giving the six quarters as much colour as it would in June!
Nature Lectures
Every Autumn we have a great series of nature lectures. Starting on the 20th September with Hugh Warwick's talk on Hedgehog's, followed in October by our very own Nick Heasman who will be talking about the past, present and future of the South Downs national park and in November we will be joined by Professor Brycchan Carey in a talk on Gilbert White , birds, botany and literature.
Apples and Preserves
Autumn is time for apples and garden vegetables! Ours are coming in quickly, you can buy some from the shop, eat them in our café, or try our homemade preserves (also sold in the shop) made by volunteers from our garden's produce!
Astronomy
Selborne is the perfect place to see the stars! We are about to embark on a ten week Astronomy course, hosted by Graham Bryant from the Hampshire Astronomical Group.
Prep for Christmas
Yes we mentioned the 'C' word. We have some great craft workshops in November to help you prepare for Christmas. A weekly Christmas craft workshop and on the 24th we will be bringing back the Wreath Making Workshops which are always very popular.
Wild Art Exhibition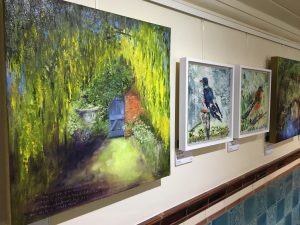 Have you seen our new exhibition yet? If no! That's okay you have until the 30th Nov. We've been joined by 4 local artists, who have produced a wonderful art exhibition inspired Gilbert White and Selborne.
Half term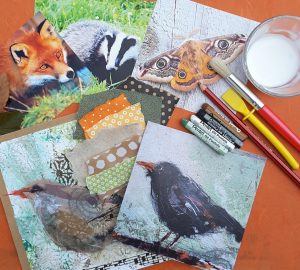 It's half term in October and we have a great range of fun to be had! We start with collage making with the artists from wild, followed by nature camp and a sleepover!
Literature
If you love your literature, then make sure you join us on 27th September when Alistair Langland will be telling us about the importance of Hampshire to many of Britain's most famous writers.
Learn about Gilbert's Garden. 
Learn more about Gilbert's garden with expert David Standing, this day course on the 27th November uncovers the original layout of Gilbert white's Selborne garden which he laid out between 1750 and 1793 and investigates many of the unusual and interesting plants he grew. He harvested over 2000 cucumbers in 1790! A mixture of slide talks, discussions and tours of the present garden, this course is a must for garden history lovers, Gilbert White enthusiasts and anyone who wants to know more about the history of Selborne!
Comfort Food!
Whether you fancy a hot chocolate and a huge slice of cake or a slice of homity pie. White's café has all your comfort food covered!