December is a great time to visit the museum so here are ten great tips for visiting this month!
1. See the Decorations
We love our Christmas decorations here at Gilbert White's our expert team of volunteers do an amazing job every year using greenery from the garden!
2. Have a glass of Mulled Wine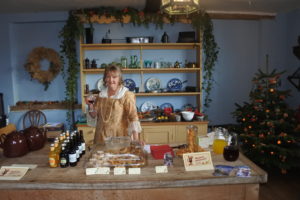 The 2nd & 3rd of December is our Mulled Wine Weekend free admission all weekend with mulled wine flowing and choirs singing! Perfect start to the festivities!
3. Buy some limited edition Gilbert White Gin! 
Our yearly Gin is available now from our shop! Made with botanicals from the garden the gin is a wonderful Christmas treat, it's limited edition however and once it's gone it's gone!
4. Go to a concert! 
We're welcoming TOBIAH and Charlotte O'Leary on Sunday 3rd for a exclusive festive concert. Tickets are still available!
5. Go for a calming walk
Take a break from the insanity of the Christmas rush and take a tranquil walk in our gardens!
6. See the Nutcracker
The story of the Nutcracker is a festive classic and Quantum Theatre will be with us on the 9th at 7pm to perform it!
7. Learn about the Escape routes of WWII 
And now for something completely different! TV's Monty Halls will be visiting us on the 15th to talk about his Channel 4 series WWII's Great Escapes – The Freedom Trails.' Monty and the film crew trekked through some of the most dramatic terrain in Europe, following in the footsteps of servicemen and women attempting to escape Nazi occupation. Tickets are going fast so don't miss out! 
8. Take some family time! 
Christmas is all about family so why not get everyone together and spend some quality time exploring the museum and gardens.
9. Let us say Thanks To You
As you know we're in the middle of a heritage lottery funded renovation project due to open in the spring! This wouldn't be possible without lottery ticket buyers. So for a week (12th-17th Dec) we're offering FREE ENTRY to anyone with a lottery ticket! Find out more here! 
10. Christmas Shopping
The Museum and shop are open until 3pm on Christmas Eve. That means you can do your Christmas shopping up until the very last minute! Our shop is brimming with unusual and in some cases unique gifts. You can also visit the shop without visiting the museum if you're in a rush!