Top Tips for Summer in Selborne
Summer is arguably the best season of the year, it's the best time to get out of the house and into the great outdoors, to try new things and to spend time with loved ones! If you're looking for ideas for what to do this Summer then look no further we have 12 tips for how to fill those long summer days.
1. Get into the Garden

Summer is the perfect time to enjoy your garden (and ours!) Our Unusual Plants Fair is just around the corner and is the perfect occasion to get out and buy something new for your garden. You'll also be able to learn some new skills, with workshops and talks throughout the weekend. Not enough? Why not come along to our Summer Kitchen Garden Course, where you can learn more about looking after a vegetable garden in the summer months with our own expert.
2. Learn a new skill

Not into gardening, but still keen to learn something new this summer? Why not join our Wildlife Photography Course? A great chance to learn about photography from a professional and all you need is a camera!
3. Go back in time

Ever wanted to step back in time? well this summer you can! Why not join us on the 16th July and Meet the White's? Gilbert's family will be visiting Selborne for a day with plenty of stories to tell and a taste of what life was like in Selborne in the 1700's. Or join us for Gilbert's Games a day were we try your hand at the games and pastimes of the Eighteenth Century? Ever tried to knock the head off Aunt Sally? Or won a game of Stool Ball now's your chance.
4. Spend time with the family.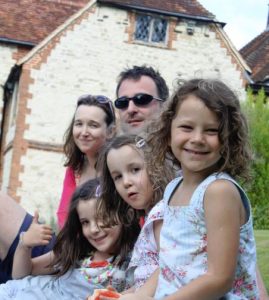 There's nothing like making memories with the family during the summer. We have plenty of opportunities from our Father's Day Sleepover to Gilbert's Games, Bat Walks, Trails, Crafts and even a Dog Show just before the schools go back.
5. Celebrate the lives of Jane Austen and Gilbert White

This year marks 200 years since Jane Austen died on the 18th July, however the 18th July is Gilbert's 297th birthday! So celebrate the two titans of literature by coming along to our talk on the use of herbs in Gilbert and Jane's lifetimes. Or join us for Gilbert's birthday celebrations. We will also be celebrating the life of Jane Austen with Jane's Games a section of Gilbert's Games dedicated to the games, and pastimes inspired by Austen's life and novels.
6. Get Cooking

July is the Hampshire Fare Festival and we are celebrating by introducing a great family friendly day Hampshire Herbs. Have the whole family learning more about herbs, cooking with them and bringing home your own, so that you can continue to make amazing meals!
7. Enjoy a drink!

And we aren't forgetting a good drink either, join us for Hampshire Fizz in conjunction with Hampshire Fare we will be trying lots of home grown and produced wines and bubbles in the idyllic setting of our garden. Bliss!
8. Connect with Nature

It wouldn't be Gilbert White's without a lot of nature activities! This Summer you can join us for Pond Dipping, Bat and Butterfly Walks, and plenty of trails and activities to make sure you experience nature this Summer.
9. Picnic

You simply can't have Summer without a picnic, we have 25 acres of picnic-able spaces. Our Tea Parlour can make you a custom picnic, or bring your own. If it rains? No problem! Just pop into the Tea Parlour and enjoy some treats homemade with produce from our kitchen garden.
10. Beat Summer Holiday Blues

Sometimes it's just not possible to keep everyone occupied for six weeks. No problem every week we have craft sessions running, two different trails all at no extra fee! Plus Bushcrafts, Pond Dipping and Butterfly and Welly Walk to keep children of all ages busy.
12. Go to the theatre

Our popular outdoor theatre event will be returning to mark the end of a glorious summer. Sit back in our majestic gardens and get carried away to Athens for Shakespeare's A Midsummer Nights Dream. As four young lovers escape into the forest to escape the tyranny of the court, their lives and loves change course as they enter a world of magic and Fairies. Will everything be set right before the sun rises, well bring a picnic and find out.