Hire Our Venue
Weddings
Celebrate your special day in our idyllic setting, beneath the Selborne Hanger of the South Downs National Park.  Gilbert White & The Oates Collections provides the perfect British country venue with a variety of informal yet distinctive spaces to hire for your ceremony, reception or party.
Enjoy your day in the 16th century Hampshire Barn, with glorious views over tranquil meadows, or for a more intimate ceremony & reception, the historic house and White's Bistro. The Great Mead affords a charming location for an outdoor reception. Whether this is a marquee, teepee, bell tent, etc. you will be surrounded by meadow with views to the house and across parkland. For those looking for an elopement we also offer an elopement package. For alternative ceremonies the woodland copse and grounds provide multiple locations.
Whichever location you prefer, the heritage setting affords unique photo memories. We only accommodate one wedding per weekend in order to guarantee you exclusive use of our venue, as well access the day preceding for the purposes of setting up and to enable you clearing away time on the following day.
Couples also have the opportunity to work with Gilbert White's Brewery, to make their own loving brew for their special day. Check out the brewery webpage to find out the details of the process and selections available.
For more information & prices email:
weddings@gilbertwhiteshouse.org.uk
Take a look at our Instagram page for inspiration:
Wedding Hire Options
Barn Package 
The Great Mead  
Great Parlour
Elopements
Conference Facilities
Gilbert White & The Oates Collections is delighted to be able to offer two rooms within the 18th century house, once the home of Rev. Gilbert White (1720-1793), for corporate or private events, or the cafe, or for a larger event enjoy our 16th century Hampshire Barn. We are only 5 miles from Alton, an hour from Waterloo by train.
Other Event Hires Options
Barn (daytime or evening)
Barn children's party (daytime, up to 3.5hrs)
Gilbert White Room (daytime)
Discovery Room (evening only)
10% discount will be applied to events for Selborne residents (proof of address will be required).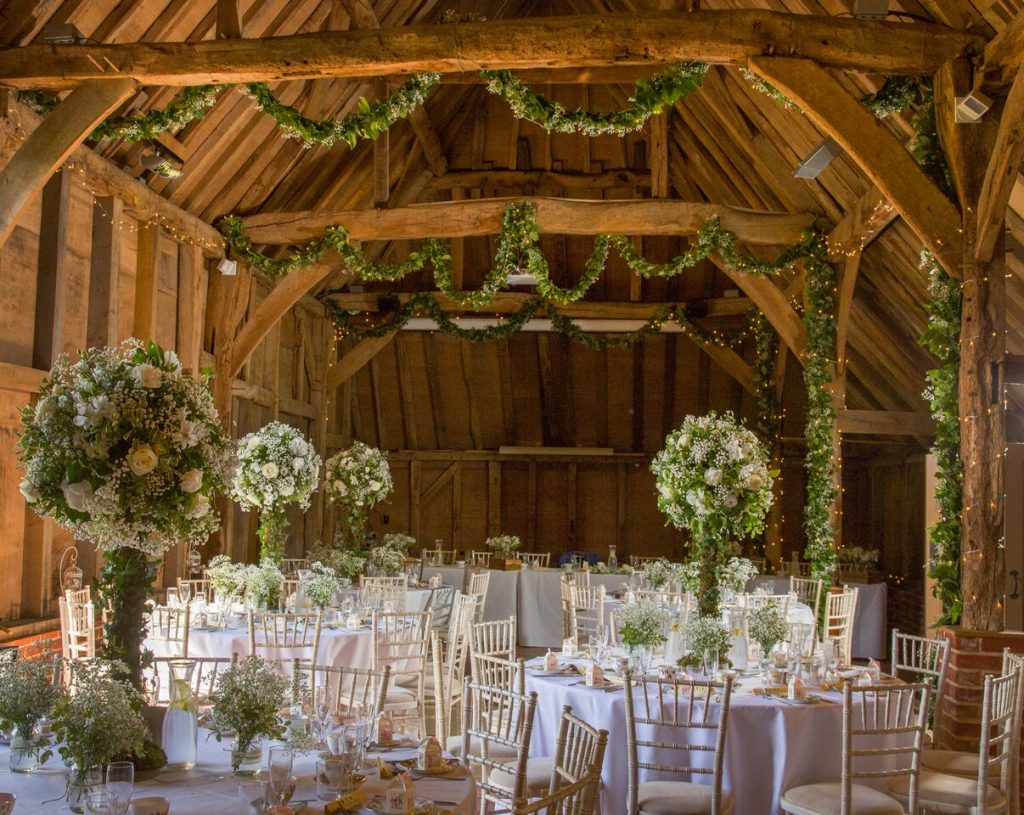 This venue doesn't host very many weddings, and that's what we liked about it – it's not a faceless wedding factory. We wanted the freedom to do things our own way, and the staff at Gilbert White's were more than happy for us to do that while also helping out when asked. When we first went to look round it was a miserable, grey, muddy day in December, but even then we could see that it would be absolutely beautiful in the spring and perfect for how we wanted our day to be; it ticked all the boxes. Even though there wasn't a wedding coordinator in place when we booked, the Directors went above and beyond in answering all our questions and giving us ideas throughout the planning process until the new wedding coordinator came on board, and on the day itself they were all on site and we genuinely felt like they were part of the day too. I wouldn't hesitate to recommend the barn at Gilbert White's for couples looking for a flexible, relaxed venue in a stunning countryside setting.
The Gilbert White House has been the preferred venue for our annual company Family Fun Day for years now. It is a fantastic venue in a beautiful location and the staff always work tirelessly to make our events a success. No request is ever too much trouble. A big thank-you for all your support!
I arranged a joint birthday party at the Barn at Gilbert White's House, in December, at quite short notice. The staff were absolutelyfantastic, they arranged everything for us from tables and tablecloths to a sound system, all included in the price. The venue looked beautiful, and Ellie kindly came down that morning to help us add some extra decorations. The chef, Jo, put together a selection of delicious food options at very reasonable prices, and we eventually chose a shared starter and "fork buffet". There were a wide range of options to suit everyone, and the food was widely complimented (and the staff kindly packaged up the leftovers for us to take home!). The staff on the night were all fantastic, everyone had drinks at all times, but
they were very discreet. Several of our guests commented (independently) to us that it was "the best party we've ever been to". We couldn't have been more delighted.