This is the first in what we hope will be a quarterly blog all about our fabulous new café White's! With lots of news about what's cooking and what's new!

Firstly the big question… are we FINALLY open? The answer yes we are!
Any regulars to the museum will know that we have been patiently waiting for the café to open for a couple of months now, after a few building delays. But on the morning of the 6th July we got the go ahead to move across to our new premises and after a mammoth staff effort to move the café out of Bells Library and into the stables, at 2pm we were able to welcome our first customers. After Colin and Wayne our contractors of course!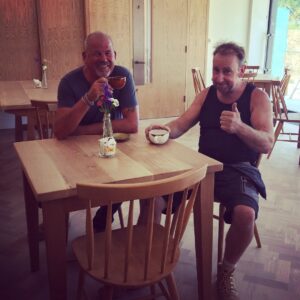 So we are in and serving visitors, but it will be a little while before our new menus kick in. But if you're looking for some where cool to sit to enjoy a sandwich, refreshing drink or a piece of homemade cake and a coffee or tea. We are the place to come!

But what is White's like? Our vision is that it will be a place that loves good homemade food. We will cook with ingredients from our garden and from local Hampshire suppliers. The menu will be a mix of old favourites from White's cafe/bistro and new dishes. The menu will change with the seasons to make sure we make the most of the produce available!
And what about the space? The stables were built during Gilbert White's lifetime and would have been a pivotal part of Gilbert's home life. The Stables were in a bad state, and the decision was made to restore them? But how to make the most this fascinating space? The Stables have now been converted into a 50+ seater café. Where you have a choice of sitting in amongst the history or sitting in our new extension over looking the garden!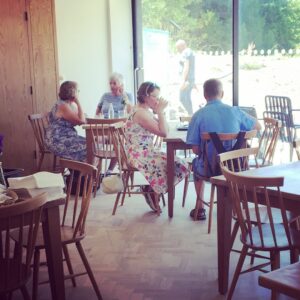 So far, we've had one soft opening which was for members of the Selborne Wine Society, where they were all treated to dinner in the new space!
So, here's to the beginning of White's Cafe! We've had great feedback so far from customers and you can try it yourself between 10:30 and 4:30 every day!