Chair of Trustees Rosemary Irwin, is continuing her successful literary walks following in the footsteps of Gilbert White. This year she plans to walk the Writer's Way on Sunday 23rd April.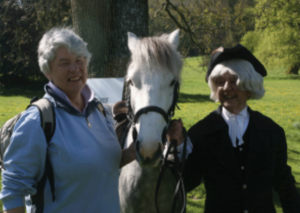 The walk, which will raise funds for the museum's major renovation project, is the next logical step after two very successful walks from Selborne to Oxford in 2015 and then back again in 2016, the walks headed by Rosemary raised thousands towards the beginning stages of the project which is due to be finished in Spring 2018.

After the long distance walks from Selborne to Oxford and back in the previous two years, this year's walk is a one day affair, inspired by new Writers' Way, which was launched just weeks ago and celebrates three great local writers Jane Austen, William Cobbett and Gilbert White. The walkers will start in Selborne and walk in a circular route through West Worldham to Alton, and back through Chawton and Farringdon. Gilbert White would have trodden all these paths, either on foot or on horseback to visit friends in Alton, Chawton and Farringdon. The distance is 12 miles and it is possible to break the walk at West Worldham after 3 ½ miles, and Chawton after 8 miles. Walkers can also join the team at Chawton for the 5 miles home or Farringdon for the last 3 miles back to Selborne, where a Gilbert White tea will be waiting. The route is almost entirely on footpaths and through woods and open country.
The walk will take place on St George's Day April 23rd and what more appropriate day to celebrate England's pioneer naturalist? The team leaves Gilbert White's House at 10.00 and should be in Chawton for a picnic lunch (please bring your own) at about 1.30 pm. Returning we will aim to be in Selborne between 3.30 and 4.00 pm for tea.
As with previous Gilbert White walks, the route should be lovely with bluebells, wild garlic and the beech trees in early pale green leaf. Nesting birds will be at their most vocal.

Thanks to the generosity of supporters in previous years our museum's project is now underway with contractors in our stable yard busy restoring and renovating the ancient stable buildings to create a new entrance to the museum, a new café and shop, and new exhibitions. We are still raising funds to complete the project and so your support will be hugely welcome. To join the walk there is a £25 suggested donation with £10 per dog. If you cannot walk, but would like to support you can sponsor a walker.
Booking and Gift Aid Form Walking in the Footsteps of Gilbert White