Pond: Mere, Rune and Flint, an exhibition of Selborne artist Mary Waltham's paintings, photographs and drawings, inspired by the area's ponds, will be on view from September 10th to November 17th 2019.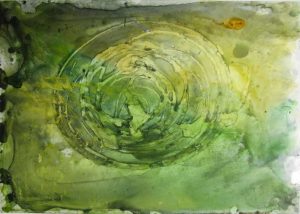 Mary's work as an environmental artist responds to the mystery, history and quiet beauty of the ancient ponds around Selborne, Hampshire. Ponds are a common feature of the British landscape, and in early human settlements were a shared water resource for humans and animals. Ponds were essential on areas of common land used for grazing livestock. Human activity has led to the loss of ponds in Britain.
The rich and diverse ecosystem that relies on each small pond is increasingly threatened by drought conditions such as occurred in the summer of 2018 in Southern England. One Saxon pond – Wood Pond on Selborne Common – virtually dried up. What would Saxon farmers who relied on this pond for their livestock have done in such circumstances? How are we addressing droughts and floods in the 21st century?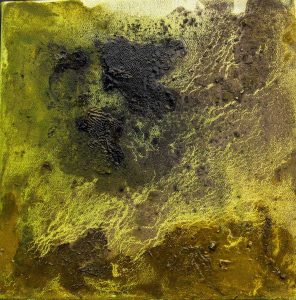 Mary Waltham worked in science and science publishing, and as a biologist, she brings a distinctly different perspective to 'nature' for inspiration. Working in a broad variety of 2D and 3D media chosen to express the particular character of the environments she chooses. Mary often incorporates materials directly from the landscape in pursuing her intention to integrate 'landscape' with 'environment'.
The exhibition will be free with admission at the museum, and will be open Tuesday-Sunday 10:30 till 5pm.