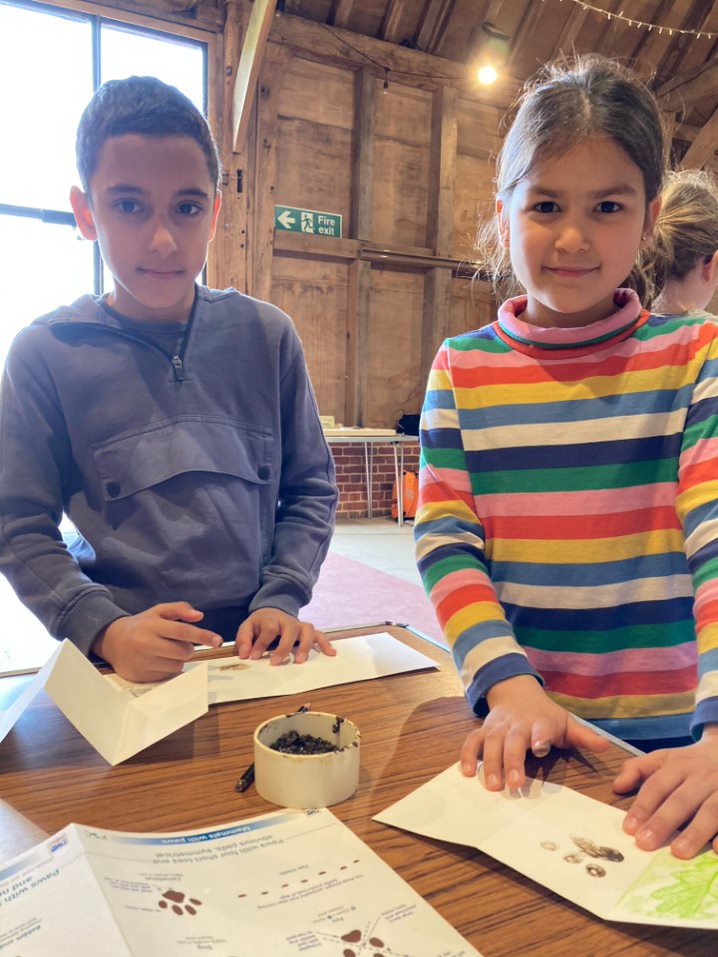 Education
Welcome to The Gilbert White Field Studies Centre, The Education Department of Gilbert White's House and The Oates Collection. Gilbert White, Frank Oates and Lawrence Oates were all explorers of the natural world, from Selborne to Central America, Africa to Antarctica. We aim to inspire the next generation to develop their own curiosity about the natural world; to explore it, understand it, enjoy it and look after it.
New: Object handling learning resource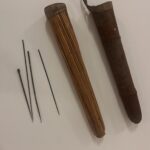 Newly developed resource using objects from the Frank Oates African collection. 
- film of an object handling session (20mins) with primary school group
- 4 short films of pupils working in small groups
- 3D images of two objects
- photos of all 6 objects
- suggestions for use in the classroom
- brief additional information on the objects
School activities on Nature Explorer Days!
Our KS 1 and 2 Explorer Days are based around one of three themes to reflect our three explorers:
· Nature Explorers (Gilbert White): exploring our local wildlife, plants and ecosystems.
World Explorers (Frank Oates): exploring different continents from Africa to the Americas and comparing the creatures and climate there to our own.
· Antarctic Explorers (Lawrence Oates): exploring the creatures and climate of Antarctica and the challenges faced there by explorers both now and in the past.
For each Explorer Day you can choose four curriculum-linked activities from a list of options, allowing you to plan a day relevant to the needs of your group.
As well as the themes described above, Explorer Days offer opportunities to develop 'explorer skills' such as map reading, orienteering and team challenges, as well as options for story-telling and art & craft. Activities are designed so that children learn by doing; they will be kept busy all day long with plenty of time spent outside exploring our beautiful 30-acre site.
For each Explorer Day you can choose four curriculum-linked activities from a list of options (scroll down to the bottom of this page to see), allowing you to plan a day relevant to the needs of your group.
For a light-hearted introduction to our three explorers, take a look at our film 'Explorers of the Natural World' created by one of our young volunteers and filmed on location at the museum and in our grounds (and not in Antarctica or Africa!).
https://www.youtube.com/watch?v=CoQItuydaXs
It's a Plant's Life
From seeds to shoots and leaves to fruits, study the life cycle of plants through handling, dissecting and observing. Making full use of our gardens, meadow, vegetable beds and trees, this workshop varies according to the season, highlighting seasonal change and growing conditions.
Curriculum Links:
Science: Identify and describe the functions of different parts of flowering plants. Explore the requirements of plants for life and growth. Explore the part that flowers play in the life cycle of flowering plants
River Studies
Visit the river in Selborne to calculate the velocity of water, plot the cross section of a stream and explore the invertebrate life in the river. Walk up the hanger to see the river valley in the wider landscape and create a map of a river system using natural materials.
Curriculum links:
Geography: Use fieldwork to observe, measure, record and present physical features Describe and understand key aspects of physical geography
Habitat Explorers
Explore our grounds to find out why creatures live where they do, how they are adapted to live there, what they eat and who eats them? Explore a range of different habitats and use scientific equipment to investigate the creatures you discover.
National Curriculum links:
Science: Use classification keys to help group, identify and name a variety of living things. Recognise that environments can change and that this can pose dangers to living things. Describe the differences in the life cycles of a mammal, an amphibian, an insect and a bird. Construct and interpret a variety of food chains, identifying producers, predators and prey.
Mighty Mapping
Find out how to read a map, identify map symbols and use grid references before creating a sketch map using simple symbols. Learn how to take compass bearings and follow an orienteering trail around our 25 acre parkland and gardens.
Curriculum links:
Geography: Use the eight points of a compass, four and six-figure grid references, symbols and keys.
Please contact us for further details and to book.
Early Years Foundation Stage
All our EYFS workshops are designed with reference to the Characteristics of Effective Learning: Playing and Exploring, Active Learning and Creating and Thinking Critically.
Go Wild
An active day investigating plants and creatures in the gardens and meadow. Learning is through games, exploration and sensory experience. Activities change according to the seasons but we will be outside whatever the weather!
Go Slow with Timothy Tortoise
Inspired by Timothy, Gilbert White's tortoise, travel through the gardens and meadow getting a tortoise eye view of the world. Experience nature differently, through sound, touch, scents, taste and new ways of looking. Hear stories of Timothy's real life adventures in this very garden!
World Explorers
Journey from Antarctica, through Central America to Africa without leaving the museum! Meet amazing creatures from around the world from penguins to parrots, before going on an expedition into the meadow to make some discoveries of your own.
Natural Art
Create your own art using natural materials. This workshop changes seasonally but always involves creating artwork from the things we find in our beautiful gardens and parkland, looking at colour, texture, shape and line.
Secondary and Post 16
We can provide study days to meet the needs of the group using a variety of activities to support the geography, biology, science and history curriculums. Students will be able to use scientific equipment to investigate key questions, collect data and analyse results.
Study Day topics include:
· River Studies
· Ecosystems and biodiversity
· Variation
· Plant life
· Map work and orienteering
Please get in contact to discuss your requirements.
Youth & Community Groups
Bring your group to The Field Studies Centre to work on your Naturalist or Wildlife Explorer badges or just to enjoy exploring our meadow and gardens.
Activities can include:
· Mini beasts hunting and identification
· Trees Trail
· Nature Alphabet trail
· Stream study
· Nature themed outdoor games
· Bird watching
· Orienteering
Booking Information
The Gilbert White Field Studies Centre Office is open Monday – Friday all year, please telephone 01420 511 517 or email us at fsc@gilbertwhiteshouse.org.uk
Session Costs
Hampshire County Council Schools Primary (30 or less pupils) £300
Additional Pupils £9.00
Hampshire County Council Schools Secondary (30 or less pupils)£330
Additional Pupils £10.00
Other State Schools Primary (30 or less Pupils) £300
Additional Pupils £10.00
Other State Schools Secondary (30 or less pupils) £330
Additional Pupils £11.00
Independent Schools Primary £345 (30 Pupils or less)
Additional Pupils £11.50
Independent Schools Secondary (30 Pupils or less) £360
Additional pupils £12.00
[River Studies: please note a £12 supplement per class is now charged for this workshop in addition to the costs outlined above. This is to cover the charge that the National Trust are now making for the use of their land for this workshop.]
Ratios
To ensure the smooth running of your day we require the following ratios of adults to children: 1:6 for EYFS, 1:8 for KS1 & 2 and 1:10 for KS3 and above. We reserve the right not to run a workshop if the ratio on the day is not correct.
Cancellations
We presently hold bookings in good faith and invoice schools following the event. However, on occasions schools have requested dates well in advance and then cancelled at very short notice – thus preventing other schools from enjoying a visit and resulting in financial loss to the FSC. We therefore reserve the right to charge all schools who have returned a completed booking form a cancellation fee according to the scale below.
· For bookings that are cancelled more than 8 weeks prior to the planned visit date £50 administration fee.
· For bookings that are cancelled less than 8 weeks prior to the planned visit date 100% of the fees due will apply.
Pre visits
We consider a pre-visit to be essential. This enables group leaders to familiarise themselves with the site and the location of all planned activities, whilst also providing an opportunity to discuss specific learning objectives, any special requirements and health and safety considerations.
Pre-visits are free and can be booked by email: fsc@gilbertwhiteshouse.org.uk or phone on 01420 511 517
Where will we eat our lunches?
Depending on the location of your session, there is space in both The Field Studies Centre and Gilbert White's House to eat packed lunches. As part of our environmental ethos we encourage schools to challenge their children to bring a 'zero waste' lunch. We provide recycling facilities but ask that you take any rubbish back with you.
What do we need to bring?
Please ensure that each pupil brings with them:
· Wellington Boots
· Waterproof Coat
· Warm clothing
· Additional dry clothes if weather is inclement – we still go outside even if it's raining!
· Packed Lunch
· Additional drink
Transport
We have a car park adjacent to the Field Studies Centre for coaches and minibuses.
The South Downs National Park runs a Travel Grant Scheme for eligible schools to visit providers such as The Gilbert White Field Studies Centre. Please contact us for more information.