Job Opportunities
Join our dedicated team of staff and trustees and help to develop and sustain this wonderful heritage site!
Our current vacancies are…
Fundraising Manager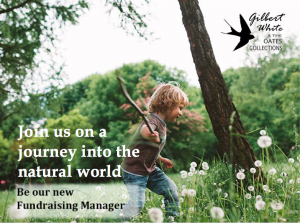 Salary: £30,000  Expires: 21st November 2018
The Fundraising Manager will join Gilbert White & The Oates Collections at an exciting time of the museum's development as we celebrate the major redevelopment project and aim to build on this success to grow supporters. We will look to this position for leadership of a new fundraising department and appropriate strategy to deliver year-on-year growth in voluntary income.
We are looking for an experienced individual with a good track record in fundraising for charities, particularly in writing successful and engaging grant proposals from trusts and foundations, and of cultivating relationships with funding bodies and individuals. The post-holder will develop our relationship management database to build and develop existing relationships, as well as identifying and cultivating new ones.
During the first 6 – 12 months, the successful candidate will be expected to establish him/herself in the role and develop a fundraising strategy whilst engaging internal and external relationships. Some early income generation will be looked for. After this period and as a result, a reasonable annual fundraising target for gifts and pledges will be proposed and agreed with the Co-Directors, who will line-manage the role.
The successful candidate be good at working with others to maximise their potential and have the ability to co-ordinate bids to support a variety of activities and projects across the organisation. Comfortable with budget management, highly organised, and with a strong attention to detail, they will be personable and engaging. They must be a self-starter with a desire to use creativity to benefit fundraising work and that of the whole museum. Previous experience in a heritage / museum / arts role is desirable, but not essential.
To apply please fill out the application form at the bottom of this page and e-mail to info@gilbertwhiteshouse.org.uk 
Chair of the Board of Trustees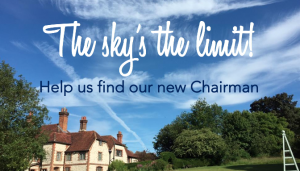 An exciting opportunity has opened up to help lead a new chapter for this historic heritage attraction, following a £3m refurbishment, helping more visitors gain knowledge of the natural world to help ensure its survival.
Following a successful application to Heritage Lottery in 2016, the Museum re-opened in May 2018 after a major £3m rebuild. This includes a new car park, a new café and entrance, a new shop and new galleries and support for additional programmes of activity. The aim of the HLF project has been to give the Museum greater long term sustainability and financial resilience.
Our ambition is increase the numbers using the museum, either as visitors or as attendees at events and courses. The new Chair has a unique opportunity to help shape the direction of the museum in this new phase. Events such as weddings are proving a growing source of income. We need to widen our appeal to include more of our potential audience. We are well situated geographically – 314,000 people live within 30 minutes drive and 3 million live within 60 minutes drive. We see our unique collection of heritage assets – museum collections, buildings, gardens and park lands – as a springboard, inspiring our visitors to make their own journeys into the natural world.
Principal responsibilities
Provide strategic leadership to the charity and its Board, ensuring that Trustees fulfil their responsibilities and operate within its charitable objectives
Ensure that constructive relationships exist with and between the Trustees
Ensure that systems are in place to evaluate, manage and mitigate the risks the charity faces
Ensure that the Board maintains the sound financial health of the charity, with appropriate financial accountability and to ensure that meetings are well planned and effective
Ensure that the governance arrangements are effective and develop the knowledge and capability of the Board of Trustees
Work closely with the Directors to give direction to Board policy-making
Act as an ambassador and spokesperson for the cause and the charity, and represent the charity at external functions, meetings and events
Personal Qualities
A passionate commitment to the charity and its objectives
Strong leadership and inter personal skills
Comfortable in an ambassadorial role in public
Tact, diplomacy and powers of persuasion, with the ability to listen and engage effectively
Strong networking capabilities
Ability to foster a collaborative working environment
Willing to go the extra mile in committing time to the charity.
Experience
Experience of operating at a senior strategic leadership level
Successful track record of achievement through their career
Experience of charity governance and working as part of a Board of Trustees
Experience of external representation, delivering presentations and managing stakeholders
Significant experience of chairing meetings and events
Financial management expertise and a broad understanding of charity finance issues.
For more information and to register interest please let us know. 
Wedding & Events Internship

OUR INTERNSHIP OFFER: You'll need to commit to volunteering for three to five days/evenings a week, for seven and a half to eight hours a day, depending on which project you choose to volunteer for.
As an intern you will receive:
Travel expenses to and from your placement
Supervision, coaching and support throughout the duration of the internship.
Any appropriate training which is required.
Advice and support on writing your CV and application forms, as well as interview skills.
 Access to our internal vacancy list.
A reference on satisfactory completion of the volunteer internship.
For the wedding internship we also offer:
To support the intern in gaining a certificate in Wedding Planning from a certified body such as the UK Academy of Wedding & Event Planning (capped at £500)
Travel & subsistence to and from the place of the final examination for the certificate.
To apply please fill out the application form at the bottom of this page and e-mail to info@gilbertwhiteshouse.org.uk 
Catering Assistant
We are looking for someone to join our Cafe team. Must be willing to work weekends.
Catering Assistant Job Description
To apply please fill out the application form at the bottom of this page and e-mail to info@gilbertwhiteshouse.org.uk