Our museum intern Connie Main tries our our new Garden walks! 
Spring is truly springing, especially here in Gilbert White's Garden and Meadow. To complement the start of the new season, our fantastic gardener Keith has designed three walks and each takes one on a journey through the beautiful grounds. The grounds are landscaped in the 18th century style with plants and gardening methods inspired by Gilbert White's diaries between 1751 and 1793.
The Floral Walk takes about fifteen minutes, just enough time to explore the Six Quarters, the Herb Garden, and the Naturalists Garden. This walk is perfect for those who may be short of time and just want to see a small snippet of what the gardens have to offer.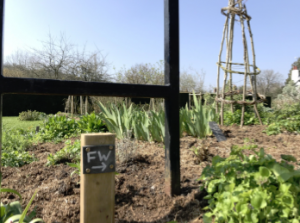 Commencing round the back of the property, one is invited to walk under the archway and enter the first stop on the garden tour: The Six Quarters.
From reading White's diaries and in accordance to his Garden Kalendar the gardeners have recreated a garden that Gilbert White may recognise as his own. The six flower beds are defined by brick borders and house a fantastic variety of flowers that White grew himself in the 18th Century.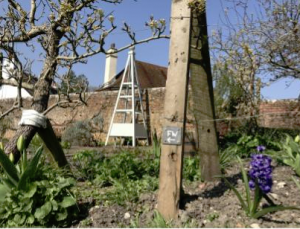 Following the arrows to the next stop is the Herb Garden in a sunny but secluded area of the walled garden. Fruit trees mark the boundary edges and a brick pathway leads the wanderer through to the Naturalists Garden. The small beds allow for easy access to the herbs, varieties that are recorded in the Garden Calendar and the Naturalist Journal have been planted here.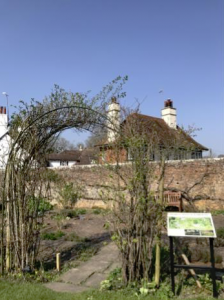 It is impossible not to notice the wonderful brick work of the old wall and imagine all the years of plants that have taken refuge against it.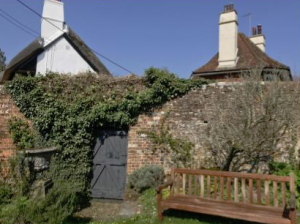 Continuing through the Laburnum Archway – also known as a golden chain tree – the wanderer gets their first glimpse of the pond. An apple tree 'King of the Pippins' stands proud in the foreground ready and waiting to boast delicious fruits. The final Floral Walk sign post points to the Fruit Wall which was erected in 1761 by White, although only a section of it remains, it is still a wonderful example of the use of a well placed wall to maximise the effects of the sun in order to ripen fruit. To the right of the Fruit Wall is the Ha-Ha and the beginning of the next walk.