WALKING IN THE FOOTSTEPS OF GILBERT WHITE
FROM SELBORNE TO RINGMER April 2019
Members of the Friends of Gilbert White & The Oates Collections have been embarking on a walk from Gilbert's home in Selborne across the South Downs to White's aunt's home in Ringmer in Sussex. Rosemary Irwin recounts the first leg of the walk.
We have just finished the first weekend of our walk to Ringmer in West Sussex, walking from Selborne to Durford Wood on the first day (Friday 26th April), Durford to Stedham Common on Day 2 (27th) , and on Sunday 28th from Stedham via Midhurst to The Unicorn Inn at Heyshott.   Gilbert White (Ronnie Davidson-Houston) graced our start on the pony Mouse  as he would have set off on his journey.  Our leader is John Selborne, with Joanna as back marker, and so far the weather has been very kind and we haven't been blown away or soaked, and no-one has got lost.
The start in front of the dandelions of the Great Mead at Gilbert White's House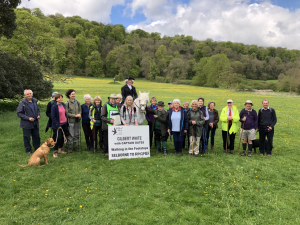 Gilbert on Mouse encouraging the walkers, who arrived at West Liss in time for lunch, led by Finn the collie, who has been on all our walks.   There is a particular satisfaction in crossing busy arterial roads on foot bridges as the walkers had just crossed the A3, and finding oneself once again in a rural backwater, by the 14th century church of West Liss.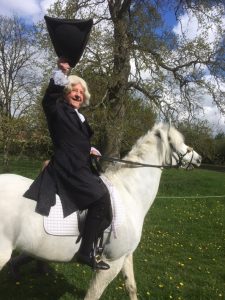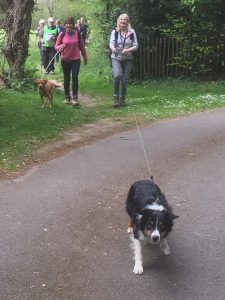 The bluebell wood where we stopped for lunch on Day 2, and the walkers at Cowdray House on Day 3.   The cows are ominously lying down, but their meteorology failed to predict rain.     The weather has been bracing, with strong winds on Day 2 and racing clouds.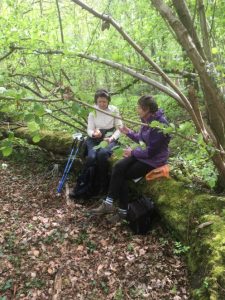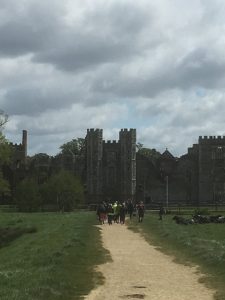 I have encountered some scepticism as to whether Gilbert White actually made the journey from Selborne and Ringmer, and can assure you that he did so many times, maybe not by precisely the same route.  He went to see his aunt, Rebecca Snooke, who lived at Delves House in Ringmer (still there under the guise of an old people's home).  She was a widow, whose husband had given her a tortoise called Timothy, and when she died Gilbert brought him, greatly protesting at the bumpy ride, back to Selborne to live with him. He gets many mentions in Gilbert's diaries and letters, with stories of sorties into the meadow after amorous females, weighings, near-drownings. After his death he was found to be a female, and his skeleton is now on show in the Natural History Museum.