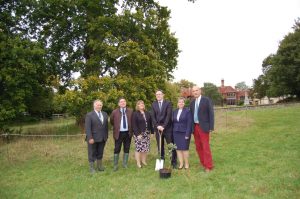 East Hampshire District Council launched a programme to plant a tree for every resident in East Hampshire at the Selborne home of the district's famous ecologist, Gilbert White.
The council plans to plant 120,000 trees across the district over the next four years as part of its commitment to battling climate change and reducing its own impact on the environment.
The first tree of the programme was  planted on the 3rd October in the grounds of 18th century naturalist Gilbert White's House and Museum, in Selborne, which will be celebrating the anniversary of his 300th birthday next year. Gilbert White is considered to be the father of ecology for his detailed investigation of the relationship between plants, animals and humans. He was author of the famous book, The Natural History of Selborne.
The tree, planted by EHDC Leader Cllr Richard Millard, is in the shadow of a great oak planted by Gilbert White himself as a 10-year-old boy in 1730.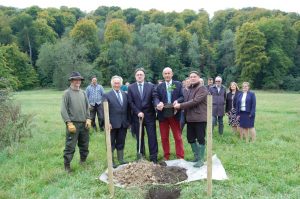 It is hoped that communities, schools and businesses will take up the challenge to find places to plant the new trees and play their part in this ambitious environmental project.
As the trees mature they will play a significant role in reducing carbon in the atmosphere as well as boosting biodiversity.
EHDC Leader, Cllr Richard Millard, said: "We think Gilbert would have approved of our tree planting programme – and we are dedicating the project to him as a very distinguished former East Hampshire resident, a great naturalist and the founder of ecology.
"In July, East Hampshire District Council declared a climate emergency and announced how we intended to reduce our impact on the environment.
"This project will not only help our ambitions to go carbon neutral, it will also inspire our local communities and fire the imaginations of the young people who will live in the word we leave behind."
Gilbert White was a careful observer and recorder of trees and understood their importance to a flourishing wildlife. He said: "The parish I live in is a very abrupt, uneven country, full of hills and woods, and therefore full of birds.
"Trees are great promoters of lakes and rivers; trees perspire profusely, condense largely, and check evaporation so much, that woods are always moist; no wonder, therefore, that they contribute to pools and streams."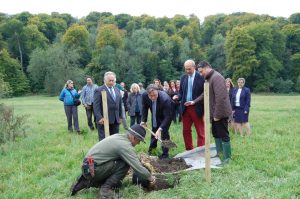 The planting is the first of many events that will celebrate Gilbert's 300th birthday and was done in front of an audience of more than 50 GW300 partners during a meeting at Gilbert White's House & The Oates Collections. GW300 is a partnership dedicated to raising the profile of Gilbert White.
"Gilbert White fully understood the value of trees to the environment and he would be right behind East Hampshire District Council's plan to plant one for every resident in the district," said Museum Trustee Philip Geddes.
"We had a very successful inaugural meeting of GW300 in July in London and we are very happy to welcome several new members of the partnership able to be with us here today," said Mr Geddes.
GW300 is designed to support all its partners in the delivery of their birthday plans for Gilbert. A wide range of events are planned during the coming year – from new permanent exhibitions to a wide range of talks and activity events around the country.
"It will be a great chance for people to get involved in the environment" said Mr Geddes.