As we prepared for Gilbert White's 300th anniversary celebrations in 2020 we felt one of the most important things we needed to do was give our Gilbert White areas a much needed make-over. Although the house is always lovely, with the inclusion of new displays in 2012 and 2018 for the Oates Collections displays, the Gilbert White half of the house was beginning to look tired. It also didn't really tell his story properly and our visitors didn't necessarily get a feel of them once they left the museum.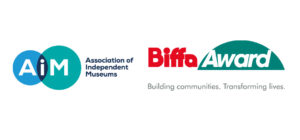 So we embarked on a project to change this and were lucky enough to be part of History Makers supported by AIM Biffa Award, as part of the Landfill Communities Fund.
Of course the Pandemic did rather slow things down, our hope to involve schools and young families in the decision stages were scuppered by the continuous lockdowns, not really the time for location specific focus groups. However the project did lead throughout the pandemic to some fantastic connections and future projects with The University of Winchester & our local secondary schools, specifically with their climate change groups.
In Autumn 2020 we were finally able to get going with the project and commission Workhaus and Lima Studio to help us transform the house, many zoom meetings later in Summer 2021 we were finally able to get contractors on site to begin work! The idea around the house is to tell a different aspect of Gilbert White's life in each room.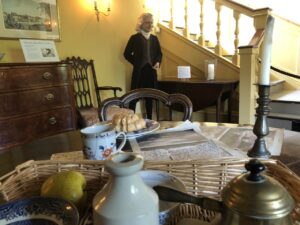 In the Little Parlour the original part of the house we talk about Gilbert White and Selborne, the village he would go on to immortalise. Where would Gilbert White be without Selborne? Was Gilbert White simply lucky that he grew up in an area with such a bountiful mix of habitats and soil types, so that it's biodiversity was so rich? Gilbert White was a big part of his community in the village too acting as Curate for many years.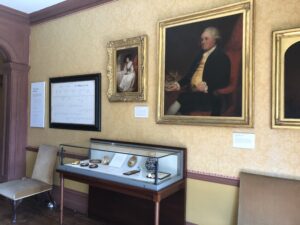 The Great Parlour was the room Gilbert White himself added to the house. He was a very sociable and the use of the parlour was for hosting friend and family. In this room we've added a new display case full of items relating to Gilbert White's family, which until now we've never been able to display before. We've added the portraits of Gilbert's close family to walls many of whom had a big influence on Gilbert's nature career. On the table we've set it as one of Gilbert's most famous parties told to us by Kitty Battie in her journal of the summer of 1763.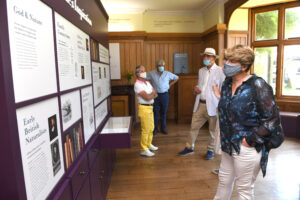 It was in Bell's Library that we made the most changes, we wanted the room to actually feel like a Library, as it hasn't had any books in it probably since Professor Bell built the library on to the house back in 1850! In this room we wanted to celebrate The Natural History of Selborne from it's begins with Gilbert's inspiration to it's publication in 1789. We built a new display case for the manuscript one of the museum's greatest treasures and added a new touch screen digital version which will mean you can flick through it's pages.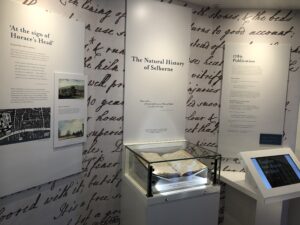 In the Study we celebrate White's approach to Natural History and his domestic life in his bedchamber. In the Kitchen we wanted a closer look at the relation between Gilbert's dinner plate and what he grew in the garden. We also have produced on the wall one of his accounts which lists not only lobster and wine, but a 'petticoat for Tull's naked wench!' In each room there is a wildlife panel which features on species that White was particularly interested in, it explains White's relationship to the animal, for example the Harvest mouse which White was the first to record. The explains it's status today which very often makes for a difficult read, when you realise what a loss we have had to our biodiversity compared to what White would have found on his doorstep.
AND we managed to finish in time for Gilbert's 301st birthday and the lovely Clare Balding was able to view the new displays before joining the party outside. We are so grateful to AIM and Biffa Award for granting Gilbert White into the History Maker's hall of fame!