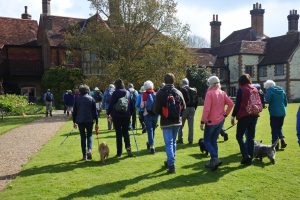 Following the success of the walk from Selborne to Oriel College, Oxford in 2016, and the return walk in 2017, which raised £32,000 for Gilbert White and the Oates Collections, the Friends have planned a walk from Selborne to Ringmer, in East Sussex. White used to visit his aunt there, and it was she who gave him his tortoise Timothy: the walk is therefore named The Tortoise Walk. (Though we plan to walk a bit faster than Timothy…)
The walk will be of 8 days and take place over the last weekend in April and the first two in May 2019: 26-28 April; 4-6 and 11-12 May. It has been researched and walked by the retired Chairman of the Museum, Rosemary Irwin, who led the two Oriel walks, and who will walk to Ringmer too. It is largely below the South Downs with magnificent scenery.
Starting at the Museum in Selborne the walk passes through Empshot Green, Liss, Durford Wood, Stedham, Midhurst, Heyshot, Sutton, Bury, Amberley, Cootham, Washington, Tottington Manor, Clayton, Ditchling, Street, East Chiltington, and ends at White's Aunt's House in Ringmer. Nearly all the walk is off-road and averages 9 miles per day. Each day can be broken earlier for shorter distances, and there are a number of pubs nearby in which to refuel.
The walk passes many fine churches and houses; walkers will provide their own lunches, with a suitable break in the walk to enjoy them. Each day either ends at a pub which will welcome walkers, or with tea provided by the Friends. The Friends will arrange cars to return walkers from to their own cars each day.
We hope to complete the funding for a sculpture of White seated in the gardens of the Museum, to celebrate the 300th anniversary of White's birth in 1720. A kind supporter of the Museum has already donated half the cost. The suggested donations for joining the walk will be:
£20 per person per day, or £50 for a 3-day weekend, or £100 for the whole walk
Plus £5 per dog per day or £30 for the whole walk.
Please e-mail richardoirwin1@gmail.com if you are interested in joining or sponsoring us. You will receive full details of the walk, including a map and start, break and end points and a booking form.
"You must know that my master is what they call a naturalist, and much visited by people of that turn, who often put him on whimsical experiments such as feeling my pulse and putting me in a tub of water" Letter of 31 August 1784, supposedly from Timothy (actually Gilbert White) to 21 year old Miss Hester Mulso.