Written & Researched by Dr Anthony Fogg
We now begin the final part of the story of the Scott and Amundsen expeditions to the South Pole. Amundsen had reached the geographical South Pole and was now heading back north to Framheim, his base in the Bay of Whales. Scott was unaware that the Norwegians had already reached the Pole and that they were on their return journey.
Terra Nova: 21st December 1911. Scott's team was saying farewells. Only a few were to make the last treck to the Pole, the rest were there to support depoting of supplies. Once they had reached 85 degrees south near the top of the Beardmore Glacier a party of four turned back north with eight men continuing.
Terra Nova: 25th December 1911. Christmas Day was the perfect excuse to celebrate, the expedition was on the Polar plateau and well on the way to the Pole. Their Christmas supper was four courses. Pemmican (a meat and fat mixture), slices of horse meat flavoured with onion and curry powder and thickened with biscuit. Arrowroot, cocoa and biscuit hoosh and a plum pudding followed by cocoa with raisins and a dessert of caramels and ginger. After this 'all slept splendidly'.
Fram: 29th December 1911: As the Terra Nova party was moving on to the plateau Amundsen's group were heading down off the plateau, but the expeditions did not meet due to the different routes they were following.
Terra Nova: 31st December 1911. Near 87 degrees and rebuilt sledges.
Terra Nova: 4th January 1912. The Pole party and the support party said their farewells. Five men, rather than the four originally planned, headed on to the Pole.
Terra Nova: 9th January 1912: They passed Shackleton's furthest south record of 88deg 23mins.
Terra Nova: 13th January 1912: They crossed 89 degrees south.
Terra Nova: 16th January 1912. Scott wrote "The worst has happened, or nearly the worst. Latitude 89deg 42mins South. We started off in high spirits in the afternoon feeling that tomorrow would see us at our destination. About the second hour of the march Bowers' sharp eyes detected what he thought was a cairn. Half an hour later he detected a black speck ahead. We marched on, found it was a black flag tied to a sledge bearer; near by the remains of a camp; sledge tracks and ski tracks and the clear trace of dog paws – many dogs. This told us the whole story. The Norwegians had forestalled us and are first at the Pole'.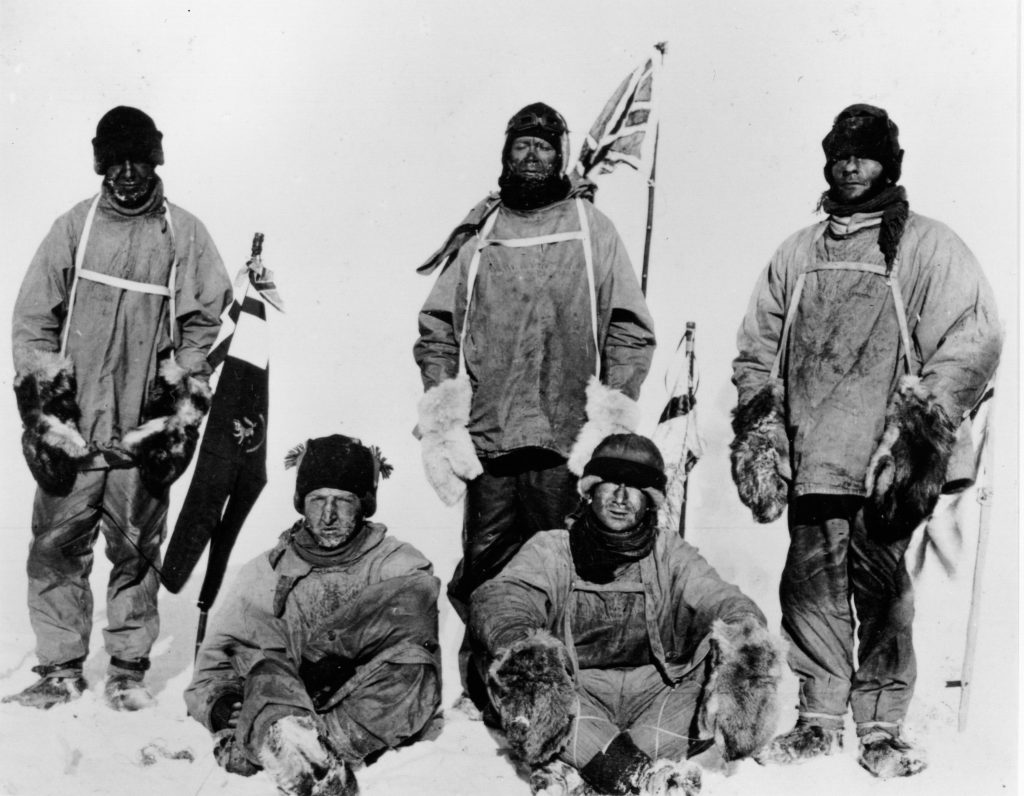 Terra Nova: 17th January 1912. Scott wrote: "The Pole. Yes, but under very different circumstances from those expected. We have had a horrible day. Great God, this is an awful place and terrible enough for us to have laboured to it without the reward of priority."
Terra Nova: 18th January 1912. In a tent they found a record of five Norwegians having been here: Roald Amundsen, Olav Olavson Bjaaland, Hilmer Hanssen, Sverre H. Hassel, Oscar Wisting (16th Dec 1911).
A note from Amundsen asked Scott to forward a letter to King Haakon of Norway.
Scott wrote: "Well, we have turned our back now on the goal of our ambition and must face our 800 miles of solid dragging – and good-bye to most of the day-dreams!"
Terra Nova: 19th January 1912. Scott wrote: "Early in the march we picked up at Norwegian cairn and our outward tracks. We followed these to the ominous black flag which had first apprised us of our predecessors' success. We have picked this flag up, using the staff for our sail."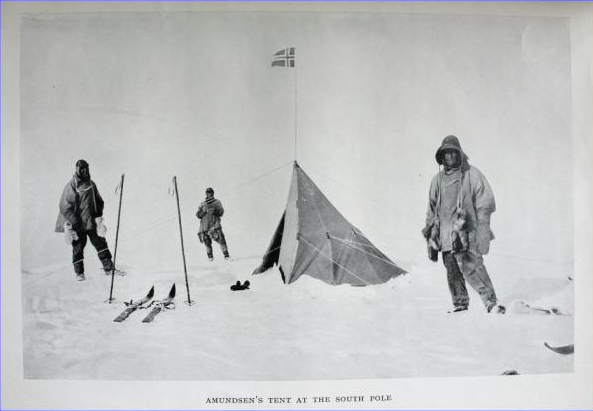 Fram: 25th January 1912: Amundsen's South Pole group arrived back at Framheim with two sledges and 11 dogs. The trip had taken 99 days and covered approximately 1860 miles.
Terra Nova: 28th January 1912. Three articles were dropped on their outward march – Oates' pipe, Bowers' fur mits and Evans' night boots. Scott wrote: "We picked up the boots and mits on the track and tonight we found the pipe lying placidly in the snow."
Terra Nova: 28th January 1912. The support party of 4 men arrived back at their base of Cape Evans.
Fram: 30th January 1912. Amundsen's team left Antarctica aboard the Fram taking with them 39 dogs and headed for Hobart, Tasmania.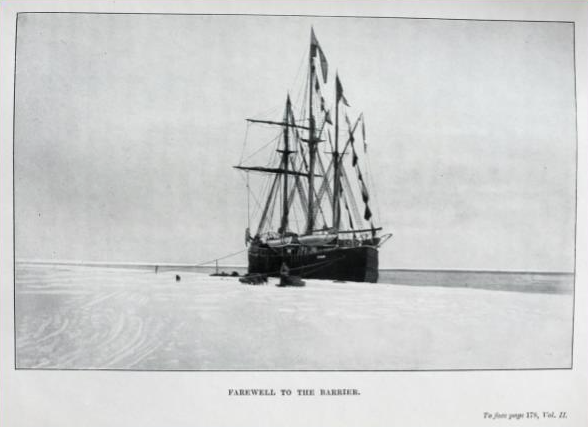 Terra Nova: 6th February 1912. Scott wrote: "Food is low and weather uncertain, so that many hours of the day were anxious……Evans is the chief anxiety now; his cuts and wounds suppurate, his nose looks very bad, and altogether he shows signs of being played out."
Terra Nova: 17th February 1912. Scott wrote: "A very terrible day. Evans looked a little better after a good sleep, and declared, as he always did, that he was quite well." However, Evans was to collapse several times on the march that day he passed away during the night. "It is a terrible thing to lose a companion this way."
Terra Nova: 24th February 1912. Scott wrote: "It is great luck having the (depoted) horsemeat to add to our ration. Tonight we have had real fine hoosh. It is a race between the season and hard conditions and our fitness and good food."
Terra Nova: 2nd March 1912. Scott wrote: "Titus Oates disclosed his bad feet, the toes showing very bad indeed, evidently bitten by the late temperatures."
Terra Nova: 7th March 1912. Scott wrote: "One of Oates' feet very bad this morning; he is wonderfully brave. We still talk of what we will do together at home……..One feels that for poor Oates the crisis is near, but none of us is improving, though we are wonderfully fit considering the really excessive work we are doing. We are only kept going by good food."
Fram: 7th March 1912: The Fram arrived at Hobart, Tasmania. Some of the dogs were passed on to another Antarctic expedition, that of Douglas Mawson, who was heading up the Australasian Antarctic Expedition 1911-1914.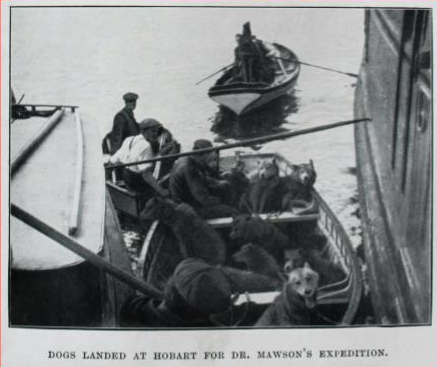 Terra Nova: 11th March 1912. Scott wrote: "Titus Oates is very near the end, one feels."
Terra Nova: Friday, March 16, or Saturday 17. Scott wrote:
"Lost track of dates, but think the last correct. Tragedy all along the line. At lunch, the day before yesterday, poor Titus Oates said he couldn't go on; he proposed we should leave him in his sleeping-bag. That we could not do, and we induced him to come on, on the afternoon march. In spite of its awful nature for him he struggled on and we made a few miles. At night he was worse and we knew the end had come. Should this be found I want these facts recorded. Oates' last thoughts were of his Mother, but immediately before he took pride in thinking that his regiment would be pleased with the bold way in which he met his death. We can testify to his bravery. He has borne intense suffering for weeks without complaint, and to the very last was able and willing to discuss our outside subjects.
He did not – would not – give up hope till the very end. He was a brave soul. This was the end. He slept through the night before last hoping not to wake; but he woke in the morning – yesterday. It was blowing a blizzard. He said, "I am just going outside and may be some time." He went out in to the blizzard and we have not seen him since.
We knew that poor Oates was walking to his death, but though we tried to dissuade him, we knew it was the act of a brave man and an English gentleman. We all hope to meet the end with a similar spirit, and assuredly the end is not far.
We are at No 14 pony camp, only two pony marches from One Ton Depot. We leave here our theodolite, a camera, and Oates' sleeping-bags. Diaries etc and geological specimens carried at Wilson's special request will be found with us or on our sledge."
Terra Nova: Wednesday, March 21 – "Got within 11 miles of depot Monday night; had to lie up all yesterday in severe blizzard."
Terra Nova: Scott's last diary entry:
Thursday, March 29 – Since the 21st we have had a continuous gale from the WSW and SW. We had fuel to make two cups of tea apiece and food for two days on the 20th. Every day we have been ready to start for our depot 11 miles away, but outside the door of the tent it remains a scene of whirling drift. I do not think we can hope for any better things now. We shall stick it out to the end, but we are getting weaker, of course, and the end cannot be far. It seems a pity, but I do not think I can write more.
His final entry: For God's sake look after our people.
Epilogue
Several excursions were made by the Terra Nova team members from their bases at Cape Evans and Hut Point to try and meet the returning Polar party, but as weather conditions worsened they became increasingly aware that Scott's Southern Party had perished and by 1st April 1912 they concluded the worst had happened. For the surviving expedition members though there was much to be done as they would have to endure another winter before any attempt at a recovery could be made.
On Midwinter Day, June 22, the whole hut was decorated with a Christmas tree, sledging flags and red bunting. A large white ensign was hung from the ceiling as a canopy.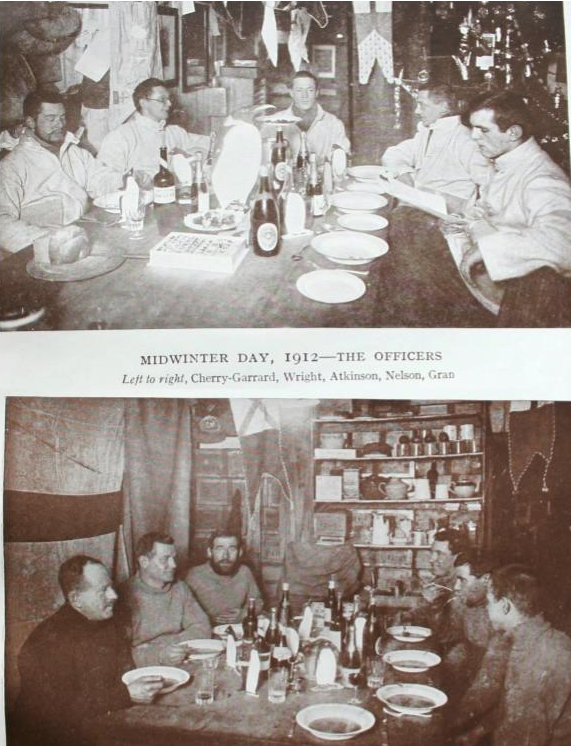 If you visit the Oates Collection in Selborne you can see an actual menu card from the Midwinter Day celebration.
On the 19th July objectives for the Southern journey, the recovery party, were outlined with a plan to head to the Beardmore Glacier where it was thought that Scott's team may have perished and preparations were commenced. It was not until 29th October though that they were able to get underway and by 10th November they were at One Ton Depot. On the night of 11th November they began a march south and by the morning of 12th November 1912 they found the tent, eleven miles south of the depot. It was partially snowed up and looked like a cairn. Inside were the bodies of Captain Scott, Doctor Wilson and Lieutenant Bowers. Scott's diary was found and the recovery party were then able to hear of the reasons for the disaster, the death of Petty Officer Evans and the story of Captain Oates' heroic end. All the equipment was recovered and the sledge was dug out. This included 35 lbs of geological specimens collected from the moraines of the Beardmore Glacier.
A burial service was carried out, covering Scott, Wilson and Bowers with the outer part of the tent and a large snow cairn was built above them. A cross was made from two skis and two sledges were upended in to the snow as added marks with a metal cylinder containing a short record of the events experienced by the Polar Party.
The recovery party marched 20 miles further south in search of Captain Oates. Although his sleeping bag was found, he was not. A second snow cairn was built by the recovery team with a small cross on which was written:
"Hereabouts died a very gallant gentleman, Captain L.E.G. Oates of the Inniskilling Dragoons. In March 1912, returning from the Pole, he walked willingly to his death in a blizzard, to try and save his comrades, beset by hardships. This note is left by the Relief Expedition of 1912."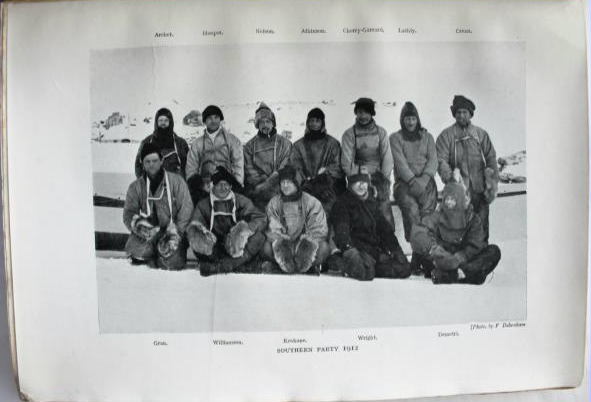 On 20th January 1913 a 9 foot high cross was erected on the summit of Observation Hill overlooking the Ice Barrier Scott's Discovery expedition quarters 1903-1904.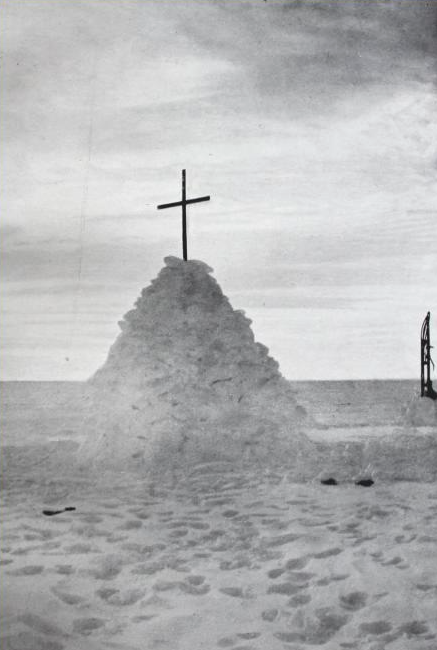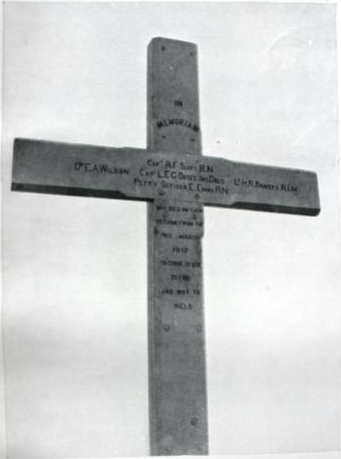 A miniature copy of the cross made of wood from the Terra Nova ship can be seen at the Oates' collection.
26th January the Terra Nova, it's crew and the expedition party left the shores of Antarctica and headed north arriving in Lyttleton, New Zealand 12th February 2013.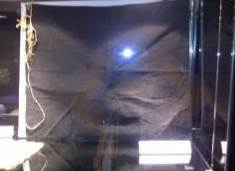 This is a picture of a black flag (whilst on exhibition during a Centenary exhibition at the Fram Museum, Oslo in 2012) found in Dr Edward Wilson's pocket by the recovery party in the autumn of 1912. This flag had been carried towards the South Geographic Pole by the Fram expedition and encountered by the Terra Nova party on 12th January 1912.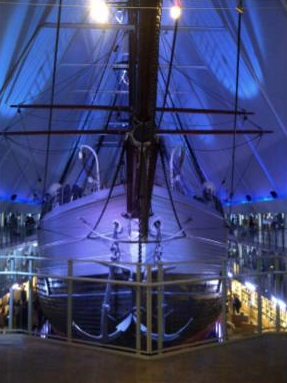 The Fram is preserved at The Fram Museum in Oslo, Norway. Sadly the Terra Nova's sailing years ended in 1943 when it was sunk near Greenland although the wreck was charted in 2012.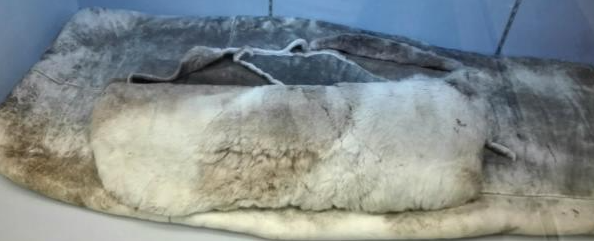 Oates' sleeping bag is held at the Scott Polar Research Institute. The bag was found on 12 November 1912 by the search party looking for the polar party. It has been cut along the length to ease the entry of Oates' badly frostbitten leg.