We have recently been awarded a prestigious Sandford Award for education. The Sandford Award is an independently judged, quality assured assessment of education programmes at heritage sites, museums, archives and collections across the British Isles. 2018 marks the 40th anniversary of the Sandford Award. The Awards focus on formal, curriculum-linked education opportunities offered to schools by heritage sites, although recognition is also made of informal learning such as family programmes. The Sandford Award programme is managed jointly between the Heritage Education Trust and Bishop Grosseteste University Lincoln.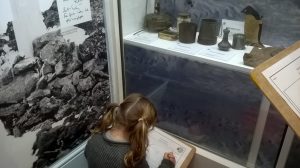 Our Field Studies Centre, the Museum's Education & Learning department has massively developed it's education programme in recent years. Six thousand students aged from 4 to 18 pass through its door each year, studying a variety of subjects including River geography, geology, mapping, habitats and adaptations and Antarctic Exploration, the Field Study Centre also has a wonderfully rich out of school events programme, providing clubs, sleepover experiences and workshops and talks for all ages and interests.
The session evaluated was a year 1 Antarctic Explorers Session for 60 pupils. The Museum tells the story of the Terra Nova Expedition, the tragic story of Lawrence Oates, Captain Scott and team members. Sandford Award Judge, Louise West commented. 'Gilbert White & The Oates Collections in Selborne have reason to be proud with their first Sandford Award. The schools programmes they offer help to enlighten and illuminate the ecological contribution and interest of Gilbert White, Frank, and Lawrence Oates. The famous and heart breaking story of the failed attempt by Captain Scott and his team, including Lawrence Oates, to reach the South Pole ahead of the Norwegian team, is presented to new audiences. Children as young as six can learn and experience the hardships of the expedition and understand in simple and moving ways the sacrifice of Oates who famously exited the tent, saying 'I may be some time.'
By being awarded the Sandford Award the Field Studies Centre now has a 'kite mark' for high quality education provision which is recognised by schools and other education institutions across the United Kingdom, this can attract new visitors to the museum and field studies centre. Gilbert White & The Oates Collections also now has national recognition among the heritage sector of the personal contribution of its staff, which will help to motivate the whole site to develop its good practice further.
The Field Studies Centre is now booking for school sessions for 2019, and also has a full programme of holiday activities, for more information on what is on offer please see the museum's website.