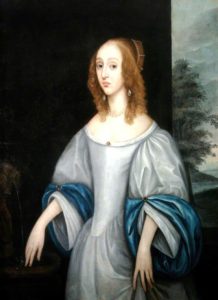 Name: Anne White nee Holt
Date of Birth: 1693
Married: September 1719 aged 26, to John White a trained barrister, and eldest sone of Rev. Gilbert and Rebekah White.
Children: Gilbert (1720), Three babies who died in infancy between 1721 and 1723), Thomas (1724), Benjamin (1725), Rebecca (1726), John (1727), Francis (1728/9), Anne 1731, and Henry 1733).
Life: Anne Holt was the daughter of fairly wealthy Sussex farmer, she married John White. John was a trained barrister and Justice of the Peace but never seems to have worked. She spent the first year of married life living at the Vicarage with her in-laws, where her first son Gilbert was born in 1720. She then with her baby and husband, moved to Compton near Guildford then finally around 1727 the family moved backed to Selborne to live at The Wakes (now the museum) with Anne's widowed mother in-law. The family grew massively, Anne was almost constantly pregnant for 13 years. She had eight living children. Life at The Wakes would have been hectic, the house wasn't large in the eighteenth century, and was home to eleven people. Anne would conducted the younger children's education, and been responsible for running the household. Unfortunately we really don't know much about her personally, but life must have been difficult with a lot of children and a husband who wasn't working, but all her children ended up fairly wealthy and well educated, they all had a passion for nature and knowledge.
Death: 3rd December 1739. Anne died at the early age of 47 on the very day her eldest son Gilbert was due to start university at Oriel College. As a result Gilbert White delayed his admission to Oxford for a year, likely to help support his father and his brothers and sisters.