The pioneering naturalist Gilbert White is known for many firsts – the first ecologist, the first to describe a Harvest mouse or the Nuctule bat – but was he also the first person to use "x's" to mean kisses in a letter?  According to the Oxford English Dictionary, he was!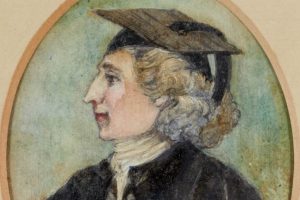 Gilbert White (1720-1793) is widely regarded as the founding father of British natural history, a parson living in the quiet village of Selborne in Hampshire, which he immortalised in his ground breaking work 'The Natural History & Antiquities of Selborne', which has never been out of print since its publication in 1789. In the years after his death White was as big a household name as Attenborough is to us today. Gilbert White never married and although some of his correspondence hints at regrets that he remained single, his great-nephew and biographer Rashleigh Holt-White said that 'White had but one mistress: Selborne'. So it something of a surprise that the OED should have White listed as the first known example of kisses being depicted as "x's".
The evidence comes in a letter from 1763, an informal note written and kept by the recipient, twenty year old Catherine, (or Kitty) Battie, daughter of the eminent London physician William Battie. Kitty and her two sisters were staying for the summer at the Vicarage in Selborne just across the road from White's house, now a museum, and Kitty kept letters, notes and poems collected from her holiday.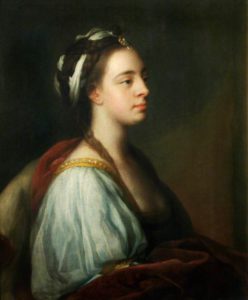 Catherine Battie
Gilbert White, then 43 years old, devoted much energy to organising activities for his friends, including the Miss Batties, over the long summer. The three girls clearly had an effect – they had a strange power over the men in the village in making them stay longer than they had intended to, so much so that they were dubbed The Three Sorceresses.
In White's letter, kept safe by Kitty, Gilbert marvels at this talent: "For it is plain, by some art magic best known to yourself, you have not only a power of detaining men that ought to be going ; but also of keeping those away that ought to come. In the whole it is best that I have been the loser, as it would not be safe in all appearance to receive even so much as a pin from your Hands. I am, with many a xxxxxxx and many a Pater noster and Ave Maria, GiL. WHITE."
But perhaps these xxx's just signify blessings? X's in the 18th Century often signified Christ, in the same way we often refer to Christmas as Xmas. This would make sense given that White was a parson, and does use x as a shorthand for Christ in other correspondence. It could also fit well with the rest of the sentence.
However the almost flirty language of the letter suggests to the modern eye a different reading and it is possible that there is a second message behind this seemingly pious salutation. The Oxford English Dictionary describes X's used in this way as 'Used to represent a kiss, esp. in the subscription to a letter.'
It is clear that White's spirits were down after the girl's departure. White also wrote poems for Kitty – one, on her leaving, entitled Kitty's Lament, and a verse during the holiday which she also kept in her diary, which refers to a party where White had encouraged the men and women to swap garments and refers to himself rather sheepishly as 'Gilbert, a meddling, luckless swain', as he gave himself the role of the rural romantic unlucky in love. One should also note that the sister of his old friend John Mulso, the bluestocking writer Hester Chapone, once used to refer to the young Gilbert White as Whitibus or Busser-White, Buss being an archaic word for kissing.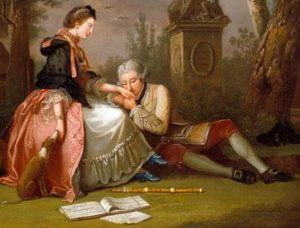 It is an intriguing thought that White, until now seen only as a pioneer in describing the natural world, could also be seen as a pioneer in expressing emotion through writing kisses………