Gilbert White & The Oates Collections have started offering a newspaper service as Selborne Stores closes its doors.
'When we heard that the shop was closing, we decided to stock a few essentials in our café thus helping Selborne residents. In addition, with our on-going commitment to safeguarding the environment, we hoped by taking action we would be reducing the number of car journeys made to other places. We have had an amazing reaction, and it's wonderful to see so many neighbours each morning.' said Judith Bowles director of Gilbert White & The Oates Collections. 'Going forward, we are happy to stock anything ordered on a regular basis in addition to the basics such as milk, bread, eggs, tea, coffee, butter and stamps.'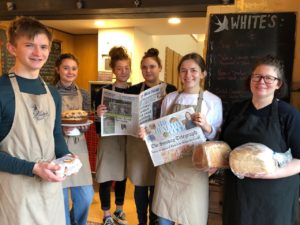 The café which is in the grounds of Gilbert White's home has been open for 18 months and has branched out from a small tearoom to doing brunches, parties and themed dinner evenings. The café now stocks milk, bread, butter and other basics like tea or coffee as well as a service for residents to reserve their papers for collection. The café has lengthened its opening times, now opening at 8:45am to cater for this new venture and is also offering breakfast.
White's Café is open Tuesday- Sunday 8:45am till 4pm. On Monday's the café will be open for newspaper collection only between 8:45am and 11am. The museum is open Tuesday-Sunday 10:30-16:30. For more information on the café or to reserve a newspaper visit the museum website https://gilbertwhiteshouse.org.uk/whites-cafe, or call 01420 511275.